Newcomer Center. During my freshman year of college, this place was an enigma. Many peers told me about the fabled building where large classes and communication happenings took place. They described the tedious slog across campus through wind, ice, snow, mud, grass, acorns and maple leaves required to revel in its glory. 
From their comments, a seed planted deep in my soul cemented Newcomer as a promise. It was a promise of awe, glory, academic excellence and, most importantly, a promise of paradise. 
What is this paradise, you might wonder? Is it the vending machine cubby near NC 19? Could it be the inspirational displays that dot the business wing hallway? Perhaps it's the fancy swivel chairs or countless secret side doors to catch you by surprise.
No. In reality, none of these compete with the magnificence of one room, nestled deep within the corner of offices for communication faculty and the Center for Community Engagement. There, a tiny, discrete women's lavatory lies untouched by the mortal world, waiting for you to recognize its splendor. 
This bathroom is not flashy or prideful. In fact, from the outside, it looks rather typical, even rudimentary. Yet, once entered, it is clear that this space was crafted with keen attention to detail and, dare I say, love. 
The bathroom smells of sweet eucalyptus leaves and lemon. A small shelf rests near the sink, well-stocked with air freshener, lotion and precious fake succulents. Opposite, below the traditional soap dispenser present in many a Goshen College facility, is a decorative, unique, sophisticated soap vessel. Behind it rests a framed picture — a cartoon of a cute dog reading a newspaper while lounging on the loo. It is adorable and cheeky, the perfect ending to this cluster of fun.
Why the luxury, one might ask? Shame on those who do! Why question what is perfect? Why interrogate what is pure? I will only even think to entertain this question because its answer provides a haunting cautionary tale.
Perhaps nothing emphasizes the brilliance of the women's restroom hidden deep within the Newcomer office wing more than its counterpart: the men's bathroom. 
Grimy and desolate it sits, daring to breathe the same air and share the same space. Once entered, only one run-of-the-mill soap dispenser stares back. Unfortunately, there is no counter for trinkets to reside, only the damp and slimy walls of a porcelain sink that runs only hot water — unideal for teeth brushing. Step deeper into the room and you'll find yourself confronted with an open-faced urinal and a toilet stall in which the toilet is frequently gurgling, requiring an intermittent jiggle of the handle. There are no fragrances, no succulents, and devastatingly, no framed picture of a cute dog reading a newspaper while lounging on the loo. This men's bathroom is a wasteland, a warzone, a travesty.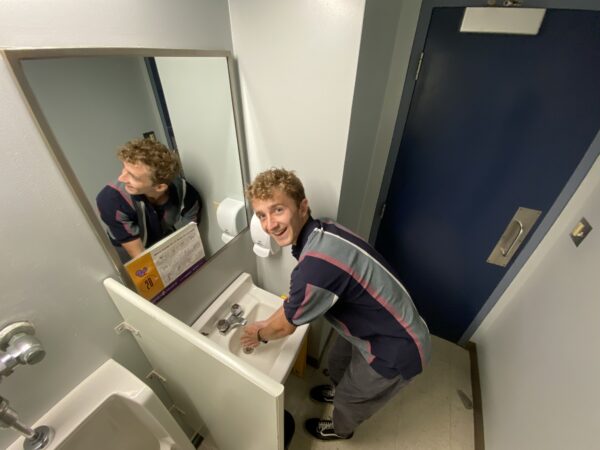 Hyde, the men's restroom, has neither succulents nor cold water. Caleb Shenk and Naomi Klassen for The Record
While many might claim that the significance of these two bathrooms is naught, I urge you to think deeper about their meaning. One of these spaces was decorated with care and devotion to its visitors, while the alternative can barely be distinguished from the other mediocre bathrooms on campus. 
People take note when their spaces feel special and sacred, and so one core truth is evident: little details matter.