The men's and women's cross country teams ran their final regular season race of the year on Nov. 6 at Huntington University. 
This race, the Crossroads League Championship, was the final factor in determining which teams would qualify for the National Championship. There were 10 teams in both the men's and women's races. The top finishing team in each race would automatically qualify for nationals. and the remaining teams would rely on a panel of national raters to vote them in.
Erica Gunden, a senior, said, "I had more pre-race anxiety than any other meet this season." 
Liam Minielly, a first year, also shared Gunden's anxiety. 
"I didn't have much of an expectation for myself going into the race," he said. "Throughout this season, I've been dealing with a number of injuries." 
Minielly suffered a strained quadricep as well as a pulled hamstring. 
"[They] have impacted my training," he added.  
The course at Huntington University consisted of loops with large hills throughout. Terrain differences also made the run challenging. 
"Essentially, we had to be tougher than everyone else and be smart about our race," Gunden said. "Going out too fast in the first kilometer would tire us out too early on, but not pushing up the hills would hurt our momentum."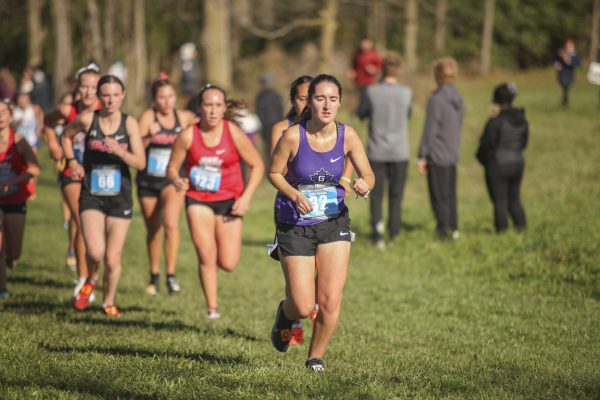 Erica Gunden competes in her final race as a Maple Leaf.
Both teams gave it their all. Despite his injuries, Minielly crossed the finish line with a new personal record of 29:57, his first time under the 30 minute mark.
Finishing the championship in sixth place, the men's team had to sit and wait until the NAIA published the list of qualifiers.
During the past few days, coach Rustin Nyce admitted he was anxious for the NAIA results. 
"Our men's team would [either] be the last team to nationals or the first team to be eliminated," he said. 
Nyce was finally able to take a breath after results were published on Tuesday evening. The men's team advanced to nationals. Minielly stated that teammate support made nationals possible. 
"I've met and become friends with a lot of interesting people," Minielly said. 
Minielly's next goal is to work his way up to the varsity group and compete at nationals next year.
The men will be running in Vancouver, Washington, on Nov. 19 in a field of roughly 300 runners that also includes five other Crossroads League schools. The race will start at 1:30 p.m. EST.
Teams are limited to seven runners at the national championship. Nelson Kemboi will be leading the charge for the Leafs with Salvador Escamilla, Dan Kibet, Liam Elias, Jackson Steinmetz, Manny Villanueva, and Jordan Garlinger rounding out the crew. Kevin Liddell will also be going as an alternate.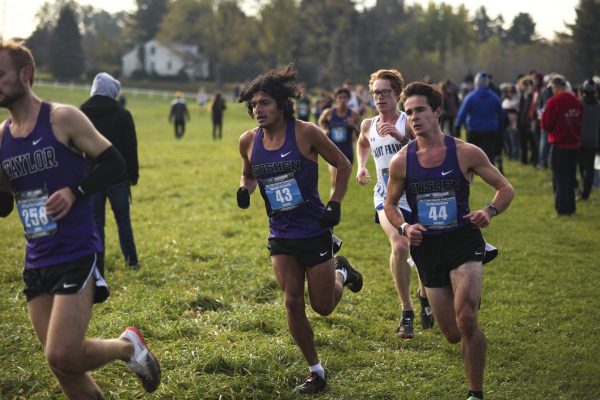 Escamilla and Garlinger work together during the Crossroads League Championship at Huntington University.
It will be the last race in the cross country season. For Escamilla and Kibet, it will be their last cross country race for the Maple Leafs. On the other end of the spectrum, Garlinger will make his nationals debut.
Finishing the championship in seventh place and not receiving enough votes, the women's team did not qualify for nationals. They will be back in action next fall with the goal of sending both programs to nationals for the first time in history. 
It was a bittersweet moment as the seniors realized they would not be racing next fall. 
"I'll certainly miss running with these amazing people," Gunden said. "But I'm so excited to see what these wonderful ladies are able to accomplish next year!" 
Gunden believes the ladies will prove that Goshen College is a force to be reckoned with. 
"I have no doubt that these ladies will continue to break records and achieve unprecedented things," she added. "And I'm so grateful to have been a part of the beginning of that."