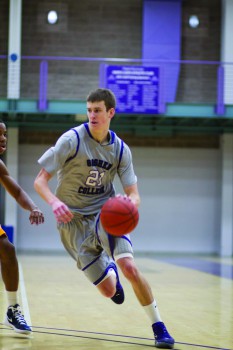 Sets up game versus #14 Indiana Wesleyan on Saturday at Gunden
The Goshen College men's basketball team continues to struggle playing away from home. Tuesday night, they dropped their second consecutive road game to Huntington 83-75. This sets up a critical game on Saturday against No. 14 Indiana Wesleyan.
The Leafs (18-11, 8-9) played well on the offensive end, but the difference-maker came from the glass and the free-throw line. The Foresters (17-12, 9-8) out-rebounded the Leafs 32-23 and shot 29 free throws to Goshen's 13, which resulted in 12 more points for Huntington.
"The difference-maker was we just didn't get the key stops we needed to when it counted," said center Mike Betcher, a junior. "They out-rebounded us [and] shot 29 free throws to our 13 which makes a big difference."
Betcher fouled out of the contest with just over three minutes to play and Huntington leading 73-68. The Leafs could not bounce back, as Huntington pulled away in the final three minutes for an 83-75 final.
The trio of Betcher, Kody Chandler,  a first-year, and Garner Small, a junior, all natives of Schoolcraft, Mich., produced the majority of the offense for the Leafs Tuesday night.
Chandler finished with a game-high of 23 points, Betcher added 20 points and seven rebounds while Small came off the bench and contributed 14 points including a couple from behind the arc.
With two consecutive losses, the Leafs are fighting for their tournament lives sitting four games back of MCC leader No. 7 Grace and currently in a three-way tie for the sixth spot in the conference. With Bethel's loss to Grace Tuesday night, Goshen cannot finish outside the top eight and is guaranteed a berth in the MCC tournament.
This sets up a battle on Saturday against No. 14 Indiana Wesleyan, a team that has won  or shared four of the last five MCC   championships.
"This game on Saturday is big not just for our team's confidence," said Betcher, "but to prove we can beat a top team in the conference."
The last time these teams met, IWU was ranked sixth in the nation and had previously lost three straight games. The Wildcats knocked off the 12th-ranked Leafs 85-78 at Luckey Arena in Marion.
"We [can] bounce back by just sticking together and not thinking the season's over now that we are below .500 in conference," said Betcher. "We have to come ready to play versus IWU."
The Maple Leafs can finish as high as fifth in the MCC with a win.