Female and nonbinary performers took to the stage at the Chocolate House on Friday evening. At this talent show, male participants are invited to show their support by taking a seat and providing chocolate treats.  
Chocolate House is set apart from other coffeehouses and open mic nights on campus because of its intent to create an affirming atmosphere for marginalized gender identities who may feel less welcome in other spaces. Therefore, men are limited to a supporting role as audience members.
Savannah Roth Walter, a member of the planning committee, made it clear that the committee wants everyone to experience the event, even if they are not performing. "Men can participate by bringing a treat as a way to show support for the performers," she emphasized. In the past, the event has usually taken place around Valentine's Day, so the expectation that male audience members bring chocolate is a play on classic stereotypes for the holiday. 
Performances were varied in both mood and subject matter, including lighthearted music, interpretive dancing and original poems covering topics such as race, grief and mental health. 
One highlight of the evening was Gloria Bontrager-Thomas's explanation of her senior theater project, "An Ode to Blackness," which explores the Black experience in the United States. Audience members were invited to view her collages on the topic during intermission.
Another student performer was Maddie Bollinger, who sang in two acts: a cover of Lizzy McAlpine's "Apple Pie" and a group cover of "Wouldn't Come Back" by Trousdale with Roth Walter and Mariah Kaufman.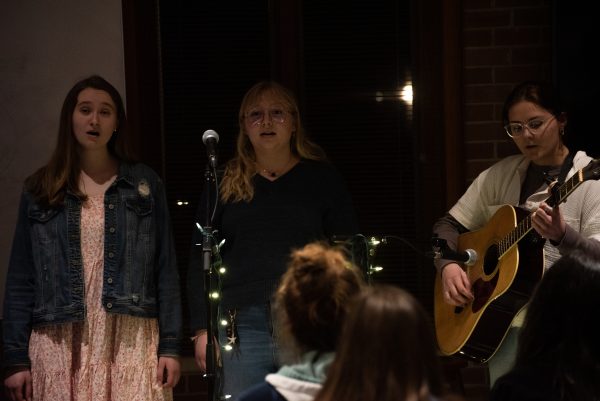 Bollinger said that one of her favorite parts of the show was "seeing Emma Zuercher do ASL to an Olivia Rodrigo song. I thought that was really cool because I had never seen it performed that way and she was very expressive."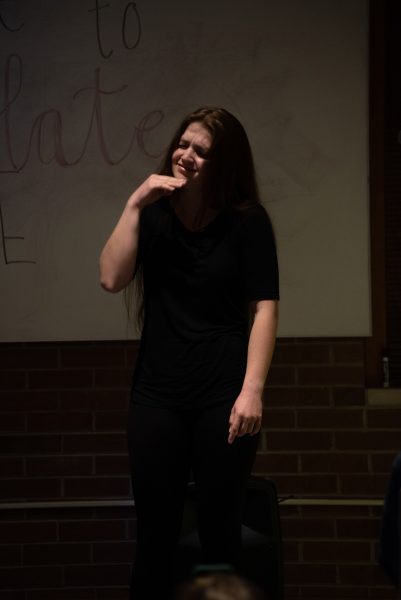 Ana Yoder, who covered "When I'm Gone" by Mipso both vocally and on the violin, was grateful to have a friendly and forgiving audience. "I love how everyone was supportive because you can screw up massively and everyone laughs and moves on."
Chocolate House organizers Emma Burton and Roth Walter agreed that other standouts from the event were original poems, including Emi Garza's reflections on grappling with her race growing up and Elaina Youngberg's honesty about mental health difficulties. 
The event concluded with the premier of the much-anticipated trailer for the Goshen College Bachelorette, an effort co-sponsored by the creators of the campus meme Instagram accounts @sillygirlygoshencollegememes and @theblacksquirrel.
Turnout was high, with students adding additional chairs to the room and standing in the back alongside the large array of chocolate desserts, which were spread across four tables.
According to Burton, "Chocolate House was started by the Goshen Student Women's Association, which doesn't exist anymore." Since previous Chocolate Houses, such as the 2020 event, were organized by the GSWA, this year's coffeehouse was spearheaded by students who wanted to keep the tradition alive. Burton, Roth Walter, and a team of others from PIN and Goshen Monologues worked together to plan the event after a break last year due to COVID-19 restrictions.