[caption id="attachment_31976" align="alignright" width="299"]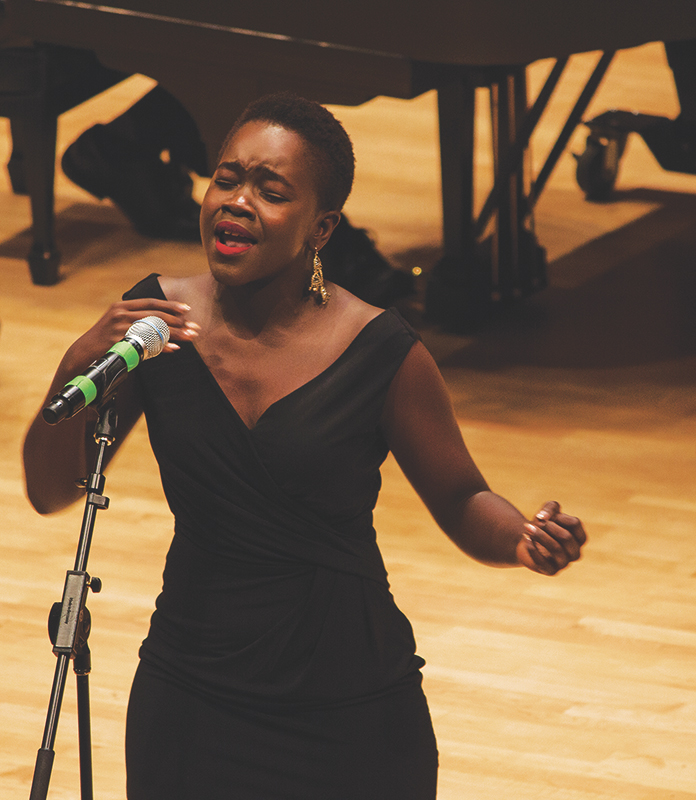 Sophomore Achieng Agutu performs the co-written poem "Light Another Candle, Say Another Prayer" with Ammon Allen-Ducot, a senior.Photo by Hannah Sauder.[/caption]
Abandoning the usual camp t-shirts and sweatpants, Goshen College students en masse, headed over to Sauder Music Center at 10:00 p.m. on Sept. 26 for Kick Off.
Prior to the event, students hustle out and about the dorms, run back and forth from the bathroom to add finishing touches on their faces and clothes. There is almost an air of competition even amongst the spectators, as fellow students eye over their shoulder to see who's wearing what and who's coming with who.
Whatever the instance, Kick Off often becomes a venue for entertainment and entertainment only. However, this year's Kick Off became the epitome of non-traditional, unconventional social consciousness. Kick Off became an outlet of creativity, as displayed in "Goshen Prairie Home Companion," acted out by junior Philip Longenecker and seniors Lucas Harnish and Halle Steingass, accompanied on piano by Julian Harnish, a first-year.
"We wanted to do a non-traditional act for Kick Off, and acknowledge that Goshen College can seem quirky and strange to new students," said Longenecker, who narrated a new student's journey to the Westlawn Dining Hall, otherwise known as the Rott. "We were super stoked to win, but wanted to give a shout out to Ammon and Achieng—our story was funny, but theirs was the one that really needed to be heard."
Longenecker was referring to senior Ammon Allen-Doucot and sophomore Achieng Agutu, accompanied on piano by fifth-year Seth Yoder, who performed spoken word in a piece titled, "Light Another Candle, Say Another Prayer." Their words "black lives matter" echoed throughout the building, reflecting on the Charleston shooting last June.
"The amount of energy and response from the audience was incredible with the message I was delivering—my vulnerability and the pain I've gone through. It made me feel empowered when people responded so well," said Agutu.
Beyond the usual knee-slapping entertainment, this semester's concert was a strong reflection on the social climate of Goshen's campus. "Queen," which consisted of Olivia Ginn, a senior, along with Ashley Brugh and Agutu, sophomores, received third place with their dance to "Feeling Myself" and "Flawless" by Beyoncé.
"Going into it I was really nervous because I hadn't done hip-hop," said Brugh. "But in the moment, it was really freeing to just be able to go up there and move in a way that I felt empowered and I knew other people would feel empowered too."
Closing the night was Goshen's Student Women's Association, which had over 30 women marching across the stage. From Gwen Stefani's "Hollaback Girl" to Beyoncé's "Run the World (Girls)," a feminist message was explored through dance.
Maggie Weaver, a junior, who organized the performance with fellow junior Hayley Mann, said, "All women have the right to feel beautiful and confident, and all of the women that surrounded me on Saturday, on and off the stage, embodied both of these traits."
In Weaver's words, the dance was a reflection of confidence "womanly strength," as she witnessed women own their power to express themselves on stage.
Agutu too, agrees that the event can be used for personal expression to reflect on social issues.  "We're using this form of art to relay a message. People should feel free to talk about social issues such as racism and gender equality—I wish I could talk about this more and not rely on Kick Off to be my debut for one night. We need to speak more about the things that hurt us," she said.
Last week's Kick Off became more than just a light-hearted performance the audience could forget about the next morning—it transformed into a platform where entertainment can be infused with a social message.