"Noah's Ark" is gone. The woman in blue with a bowl of fruit balanced delicately on her head is gone. The white moon, too, is missing. 
The Haitian paintings that added bursts of color to the Hunsberger Commons have been relocated for a year while the Union serves as a temporary cafeteria for Goshen College. The bursts of color now come from an array of national flags.
"I think the flags are cool," said Silas Immanuel, an international student majoring in accounting and film production. "It was great to see that there are around 86 international students at the college this year, so the flags added to that as a testament to the diversity-focused mindset that the college administration has."
"This collection of Haitian art is a valuable collection of original pieces collected over years of visits to Haiti by Arlin and Naomi Hunsberger," said Brian Mast, director of facilities. "With the change in use of Hunsberger Commons to accommodate more tables and full-time dining, we thought that it would be best to protect the collection so that it wasn't accidentally damaged. The pieces were carefully removed and are now safely in storage, where they will remain until dining moves back to Westlawn and we can return the art to the commons."
The Hunsbergers donated their Haitian collection, nearly 100 paintings, to the college. They built up their collection of paintings over 18 years while living in Haiti and working for Mennonite Central Committee, Mennonite Disaster Service, Church World Service and other organizations. They also served as Study-Service Term leaders for GC. 
"I worked with the family to receive that gift," said Todd Yoder, vice president of institutional advancement. "It's over 90 paintings and some flat metal paintings as well as some three-dimensional pieces like wooden carvings and those kinds of things." 
The Hunsbergers had long thought of gifting GC the paintings they had collected. They hoped that the Haitian paintings would inspire generations of students. 
In 2019, GC introduced the newly renovated Union Building, featuring the Hunsberger Commons decorated with Haitian art. The Hunsbergers helped finance the new renovations.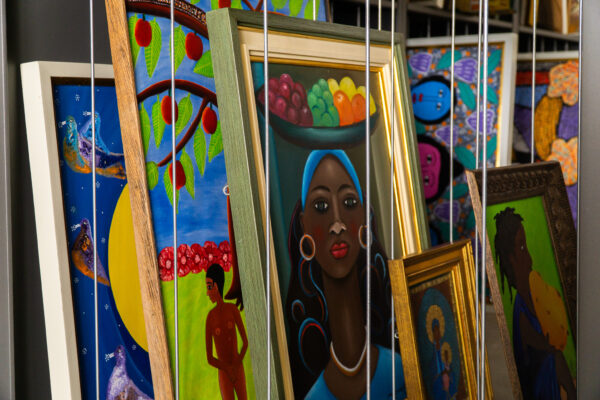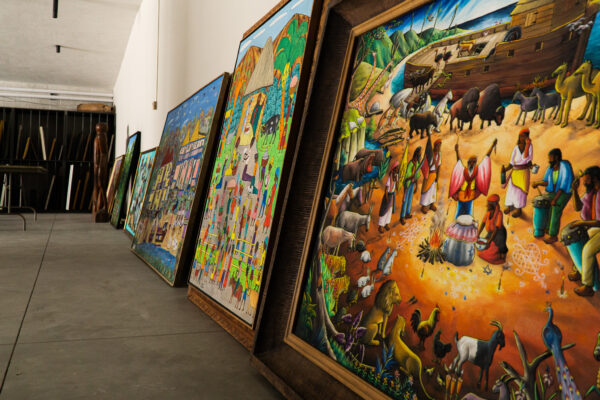 The Haitian art collection, donated by Arlin and Naomi Hunsburger, has nearly 100 paintings. Seth Smith Kauffman for The Record
"It was great that they thought of Goshen College as a place to have it," said Cynthia Good Kaufmann, director of planning and events. "The art is beautiful."
The loss of that artwork left the staff wondering how the Union Building could still be a vibrant space for students during mealtime, even without the Haitian presence. 
Jill Koop Liechty, manager of annual giving, accepted the challenge.
"I [put] an announcement asking for people who had experiences all over the world, including the U.S., to lend us some of their artwork to brighten the walls and create more of a homey space." 
Koop Liechty decided on a goal to have flags and textiles from countries represented by international students at GC hanging in Hunsberger Commons. "If we missed a country, we hope that someone lets us know, and we'll get their flag up as soon as possible!" Koop Liechty said.
She is happy with how the new additions turned out, brightening the experience of the temporary dining space. "It is still a work in progress, and we will be adding to it or changing things around as seasons change and we have time and see fit!"
Sara Method, assistant professor of art, appreciates that artwork can be seen everywhere on campus, including in the temporary cafeteria.
"We have artwork throughout a lot of buildings on campus, and I really like that," Method said. "They're unexpected often at times. As an artist, I appreciate that it's there but I hear students come in and talk about it, too."
"In Westlawn, we're hoping to be back in the dining hall next fall," Mast said. "That all depends on construction and procurement of equipment, but that's the goal."
Once dining returns to Westlawn, the Haitian paintings will be back on the walls in Hunsberger Commons.