COVID-19 affected the lives of everyone. For many young people, that meant scrolling mindlessly through TikTok and binge-watching Netflix. 
It also intensified the looming uncertainty of the future. Despite the unknown, young people continue to hold onto the hope of a safe, Zoom-free world without COVID-19.  
Inspired by an article in the The Washington Post, we asked Goshen College students to respond to the statement, "After the pandemic, I want to…." 
In their own handwriting, here are their responses.
Claudia Mobley, 19, was a senior in high school when the pandemic shut her world down. On Mar. 13, 2020, she attended a read-through for her final high school theater show. That evening, she left her school in Salem, Oregon, never to return as a student. At first, Mobley was excited about the break from school, but she soon felt the impact of isolation. She said her parents were "my only human connection." Though Mobley appreciated the chance the pandemic gave her to tap into her hobbies, such as cooking and listening to music, Mobley now feels a new sense of excitement about the shift into normalcy.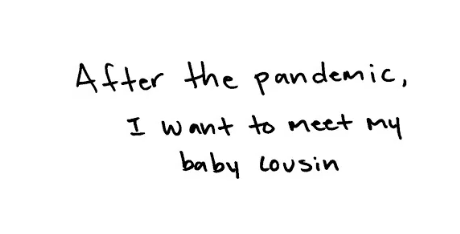 When the pandemic reached Diego Torres, 21, his first year at Goshen College was cut short. He soon went home to his family. "It was hard to deal with the reality of not getting to see my friends or when we would be reunited," he recalled. Torres is now a junior and lives with 11 of his best friends. He plans to go to Ecuador this summer, and he "can't wait to see what my final year at GC has in store."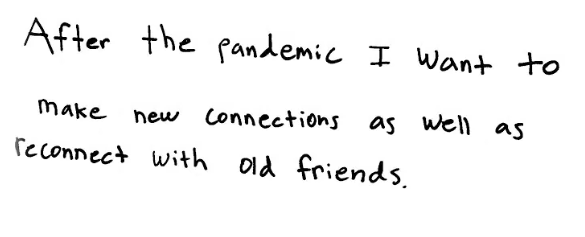 Nakiyah Kilpatrick, age 24, is an essential worker. She was employed as a security officer at an airport and worked with children diagnosed with autism. Due to social distancing protocols, she soon became isolated from loved ones. Since restrictions have been relaxed, she has been able to see her friends and family again. "My family is big on family gatherings, so getting to see everyone brought me peace that I'm thankful for," she said.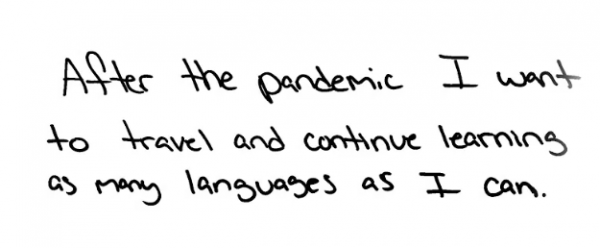 Aurora Villegas, 26, worked at an elementary school as a paraprofessional the year COVID-19 hit. The school was unsure when students would return, and Villegas soon became unemployed. "My husband wasn't working either. His job was closed for a month," she recalls. Despite these challenges, she currently appreciates them, since they provided her stepping stones to continue her education at GC.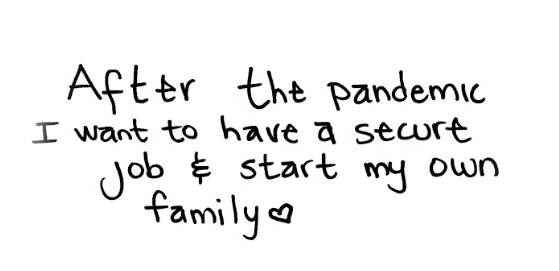 Victor Kiprop Kiprotich, 23, is an international student from Eldoret, Kenya, set to graduate with a nursing degree. Before the pandemic, Kiprotich enjoyed classes and worked a few jobs on campus. He soon realized how many things he took for granted, such as safety. "I joined the Goshen Health COVID-19 frontline workers as a nursing assistant, and my life changed forever," he said. The pandemic took a toll on Kiprotich. He noted how some patients he worked with were too young to die. Despite these challenges, he is grateful because of the lessons and relationships he has created, and he wants to continue to appreciate each moment.