Every woman has a story. On Tuesday, Goshen Monologues will seek to share those stories, written by women, told by them, and for them.
Goshen Monologues, a script of stories submitted and performed by Goshen College faculty, staff and student women, will make its debut at 8 p.m. Tuesday at Umble Center. Whether by group performance or a monologue, the project seeks to address the stages of womanhood, such as the experiences of gender awakening or confusion, as well as physical and mental abuse. The Monologues not only address the darker realities that society imposes upon the female gender, but also celebrate the joyful and encouraging moments, as themes of friendship, rediscovery, and independence are explored.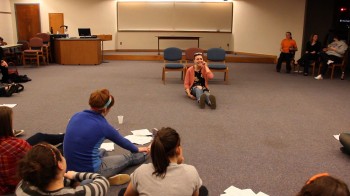 Lauren Treiber, a senior, organized the project. She thought of the idea last May and contacted a dozen women to form a planning team who could help "get the project off the ground."
The Monologues began with a call for submissions from all women on campus, an encouragement to submit anonymous letters that told stories and experiences of womanhood in various forms – as poetry, fiction, letters to younger selves or others. By the end of fall semester, the project had almost 50 submissions. Treiber then turned the letters in a script.
"To make [the letters] into a script, I know that these stories stand perfectly well and in a very strong way on their own," said Treiber. "But I wanted to structure it in a way that was visually interesting. Rather than watch one woman recount a memory, you watch the scene happen instead. I didn't make any additions, but I edited for anonymity, clarity or length."
The Monologues will be performed in five chapters: parody, body, assault, relationship and identity. Women from the GC community were invited to perform the Monologues; more than 30 elected to be in the cast.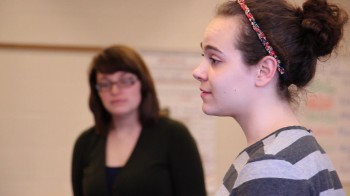 "To have another set of women tell the stories out loud adds another layer," Treiber said. "Because even though it isn't [the tellers'] own story, pieces of it are they own. The women found roots in each story that are their own."
Through their performance, the Monologues reveal the complex yet beautiful nature of womanhood in the intimate experiences of the women in the community.
Said Treiber, "Because this project is its first year, almost anything that happens seems revolutionary. I've had the immense pleasure of being in every step of project – from idea to a workshop to a pile of letters on my desk, to a script to a cast."