Most people celebrate their birthdays with presents and cake. This year, Kathryn Aschliman chose something a little different.
In honor of her 90th birthday, she wrote a book. 
"I see this as a gift of 90 years," she said. "It's not a money-making venture or anything like that; it's trying to be thankful for the good life that I've had."
The "good life" that Aschliman describes is one that has been intertwined with the Goshen College community since 1962, when she began her 34-year-long career as director and teacher of the Goshen College Kindergarten Laboratory. 
"Do you know that I had the best job on campus?" she said. "I did. Because with the kindergarten, I got to know community people, plus the campus community… so, I declare that I had the best job on campus." 
After retiring in 1996, she retained a department position as professor emerita of education. Her office is located in the Good Library next to the Aschliman Peace Arts Collection, which is named in her honor and features her 1993 book, "Growing Toward Peace." 
For her most recent addition to that collection, Aschliman originally considered writing 90 vignettes to celebrate her 90th birthday.
"Well, I soon realized that I wasn't going to get that done," she said. "[I thought:] What about the nine fruits of the spirit…maybe I could use that as an overall theme."
And thus, the idea for a book was born. 
Aschliman chose to focus her writing on the nine fruits of the spirit as listed in Galatians 5:22: love, joy, peace, patience, kindness, goodness, faithfulness, gentleness, and self-control.
Aschliman has devoted a large part of her life to one of these fruits, in particular: peace. During her time with the Kindergarten Laboratory, she emphasized the importance of early peace education in young children. 
Her passion for peace began in 1952, when she participated in a study-service term of Europe and witnessed the aftermath of World War II firsthand. 
"In 1952, there was still very much evidence of the destruction," she said. "Part of my study-service term was… helping to rebuild homes with people from Germany and France and England – those countries that had [been] demolished." 
Her time in Europe had a profound impact on Aschliman. 
She describes seeing children playing on "an adventure playground in what was a bomb crater" and using the "bomb shelter [as] their clubhouse."
"That was the root of my interest and my determination to be more proactive in teaching children the ways of peace," she said. "I came back and [asked], what should the church be doing with young children?"
Aschliman's new book, "A Fruitful Life: Enabled By the Spirit to Fill the Fruit Basket," is a collection of her life experiences surrounding this interest in peace education and her role as a teacher and peaceseeker. The book emphasizes three phases of life: "Family, professional, and church-related." 
"It is not a chronological report of my life," Aschliman said, "but it follows the nine fruits and… those three phases."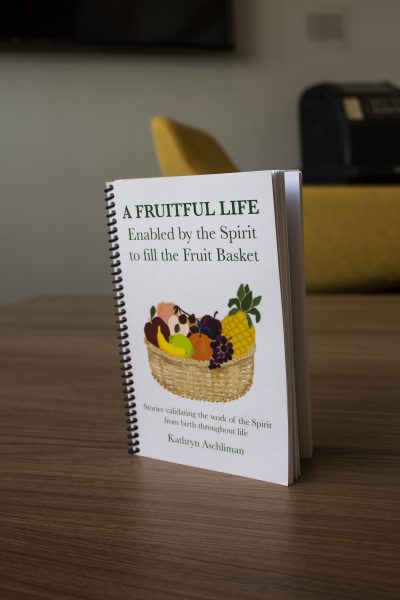 The front cover of "A fruitful life." Illustration done by Yujin Kim
Yujin Kim, a third-year graphic design and sustainable food systems double major, was also active in the production of the book, providing illustrations and organizing layout. Aschliman notes that the project "wouldn't have happened without Yujin."
"Kathryn reached out to me first," Kim said, "and I thought it was a good opportunity, so I said yes. The project started in November. Kathryn was still in [the] process of writing… but she had this idea of having the nine fruits on the cover and also this picture of Picasso's painting 'Child with a Dove.'"
Kim describes how, as the book progresses, the pictures of the nine fruits come together to complete the image of Picasso's painting.
"As the chapters go on, there's this illustration that gets completed," Kim said. "So one fruit will be added at the end of [each] chapter." 
Kim compares this collective image to her own work with Aschliman.
"We had to bring our knowledge, skills, and life experiences and lessons together to make this happen," she said, "and to complete the picture which is this book." 
Aschliman has inscribed a message on the inside cover of each of the ninety copies of her book. It reads: "Celebrating God's goodness!" And with its colorful illustrations and equally vibrant descriptions of Aschliman's life and work with education, the book truly is a celebration — one that Kim feels grateful to have been a part of.
"To manifest her life… that was really special to me," Kim said. 
Aschliman hopes that the book will help us "to be more cognizant, to be aware of the presence of the spirit among us, within us, through us." 
"And if that can be passed on, that would be wonderful."
Those who are interested in reading "A Fruitful Life: Enabled By the Spirit to Fill the Fruit Basket" can contact Kathryn Aschliman at kathrynasch31@gmail.com.