Last Saturday, Goshen College's Art Club hosted Artober, an arts workshop featuring painting, printmaking and ceramics. Art Club members led the three stations, and for two hours, GC students could float between them. The goal of the event was to offer an opportunity for students to create art and increase interest in the department.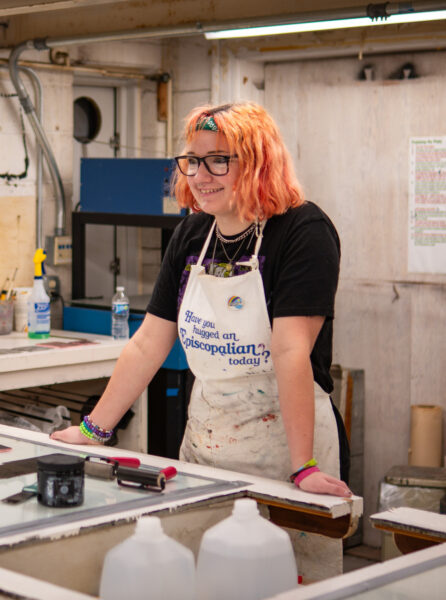 Shayne Wassell supervises the printmaking workshop. Jackson Steinmetz for The Record
Sarah Corbitt, a senior art major, was one of the organizers of the event. "We wanted to do a day with just open workshops for people who aren't art majors or [are] a little intimidated by taking art classes," they said. "They could come in and try different media and just have fun experimenting — for it to feel more approachable."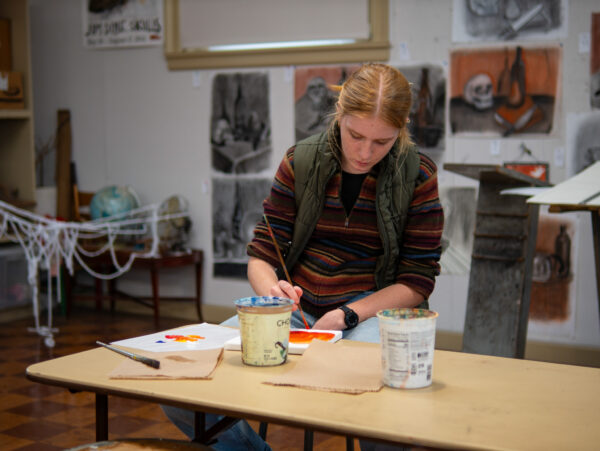 Beka Youngberg paints a pumpkin from a still lie. Jackson Steinmetz for The Record
Beka Youngberg, a freshman art education major, said the event was "a fun, stress-free environment." She painted two pumpkins with acrylic paint from a still life Corbitt set up. Youngberg had prior painting experience, but Corbitt set up step-by-step instructions for tackling the still life for anyone who did not.
Liam Bird, a freshman environmental science major, carved a jack-o'-lantern in the ground floor ceramics workshop led by Saige Lind and Joseph Mounsithiraj. "I think art is really fun," Bird said. "I don't have any art classes right now, but I do want to take some." He planned to visit the painting and printmaking stations at the workshop, too. "I haven't done printmaking in like a super-crazy-long time, so I don't really know what I'm doing, but I'm looking forward to learning about it," he said.
Shayne Wassell, a senior graphic design major, led the printmaking portion. Students could choose between a few design techniques such as carving in linoleum or on Speedy-Carve blocks.  After finishing the design, they could paint their carving and press it. 
Wassell said the goal of their workshop was to "get more people interested in the printmaking class, because it is the first class in 10 years." Wassell said it would be great to see people excited about the class and having fun making prints. "It's one of my favorite media," they said.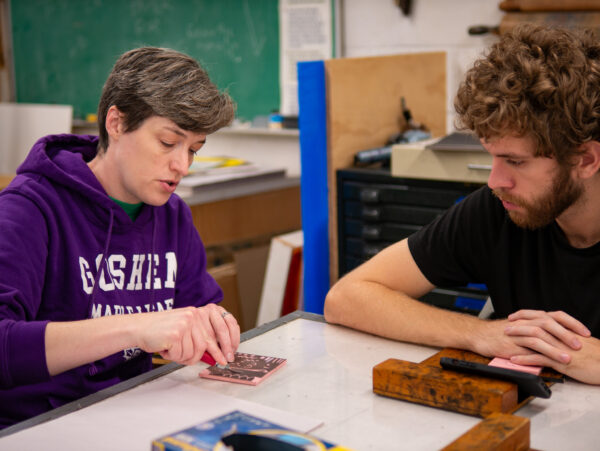 Sara Method explains to Drew Hackman how to cut Speedy-Carve blocks to make prints. Jackson Steinmetz for The Record
Drew Hackman, a senior engineering physics major, carved a planet into one of the Speedy-Carve blocks during the workshop. "I want to take art classes," he said, "but I don't really have the time, so this is great."