"Aphasia: Hope is a four letter word"
Author: • Sep 12th, 2012 • Category:
news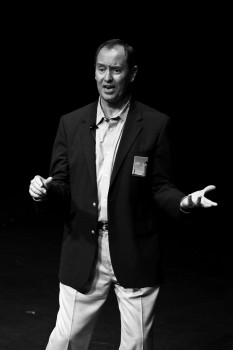 Photo by Alex Pletcher
By Becca Kraybill
Editor-in-Chief
Carl McIntyre spoke to students and faculty at an Umble Master Class lecture on September 11.
McIntyre, an actor and former salesman, suffered from a severe stroke 7 years ago. The stroke left him with aphasia, a communication disorder that impairs speaking, writing and reading. To chronicle his story, McIntyre produced a film titled "Hope is a Four Letter Word." McIntyre screened his film during the Master Class and spoke on his journey with aphasia.
McIntyre, who speaks slowly but passionately, inspired the crowd, saying, "Every day is hard. But every day is good. Never quit. Without hope, no life."
The Umble Master Class invites nationally known speakers and experts in communication and theater to Goshen Campus annually.
Becca Kraybill
Becca Kraybill is the fall Editor-in-Chief of The Record. She is a fourth-year English Writing major and enjoys waving to babies in the grocery store.