On Nov. 23, while most students were heading home for Thanksgiving break, the Goshen College women's basketball team traveled to Upland, Indiana, for a conference match-up with Taylor University — and they came out victorious. 
The team knew they needed to slow down the Trojans' transition offense, defend the perimeter with purpose and rebound the ball to eliminate second chance opportunities, but head coach Stephanie Miller placed the biggest emphasis on "traveling well."
In a shortened school week with holiday break looming, it's easy to lose focus in anticipation of the holidays, but the Leafs were able to get the job done before enjoying a few days off. 
"I was very pleased with how our players handled the travel, which can be very difficult in the Crossroads League," Miller said. "You could tell our team was ready as soon as they got off the bus."
On their way to a 70-54 victory, the Maple Leafs led for all but 33 seconds of the game. They out-rebounded their opponents 44-23, had 18-second chance points compared to Taylor's two, and shot 90% from the freethrow line, all statistics they've been struggling with as of late.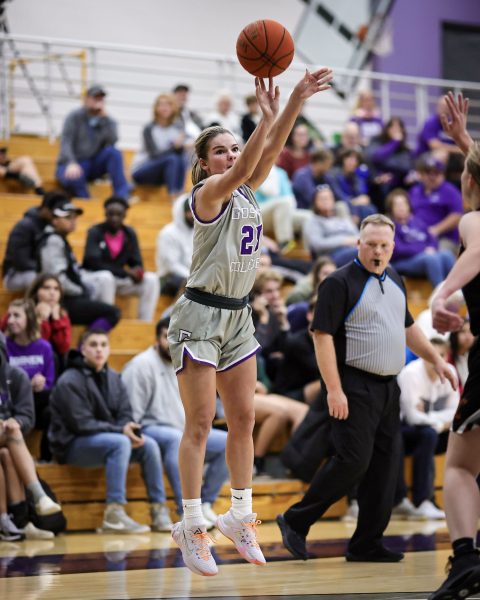 Miller said, "I would say that, other than a few careless turnovers, we were about as on point with a game plan that I've seen a team, execution-wise, in five years."
"To me, this is a confidence booster for the girls more than anything else," she said. "A win like this can really jump start some momentum, especially in this highly competitive league." 
This marked the team's first road win and conference win of the season. It was also the Leafs' first win over Taylor since the 2016-2017 season, making it extremely special for the senior class.
Graysen Cockerham, a senior captain, said, "I'm so proud of this team for our attention to detail on the scouting report and the way we took pride on defense for 40 minutes."
In the preseason Crossroads League coaches poll, Taylor was tied for second while Goshen took the seventh spot out of 10 teams. 
"We talked about how getting this victory would make headlines because Goshen beating Taylor is unheard of," Cockerham said. "We knew a win like this was possible, but now it forces other teams in the league to worry a little bit more when they see Goshen coming up on their schedule."
"This was probably our team's best win so far in my 4-year career, but it's just the beginning," she said.