The women's volleyball team earned their eighth win on Saturday during homecoming weekend, which gave the Leafs their most wins since 2017.
Goshen defeated Indiana University South Bend in four sets. GC won the first set 25-17 and continued their strong performance with 16 kills in a second-set win over the Titans, 25-15. The Titans came back in the third set with a 25-15 victory over the Leafs, but GC responded quickly with a 25-11 victory in the fourth set to close the match out.
Emily Lynch, a junior, picked up 16 kills in the game — the most she has had since Sept. 1. Kelsie Hankins, a freshman, had 38 assists, and sophomore Brenna Spangler led the team with 6 blocks. Hankins tied Sadie Brenneman, a junior, with the team high in digs: 10 apiece. 
In the following match at Indiana Wesleyan University last night, the Leafs fell in consecutive sets, losing 16-25, 18-25, and 16-25. Brenneman led the team with 9 kills, Hankins had 21 assists and freshman Alaina Wolfe contributed 9 digs. 
The Leafs are currently 8-17 on the season and are still seeking their first conference win; in the game before IUSB, they lost to the University of Saint Francis. GC nearly beat the Cougars after being down 2-0, but they lost 12-15 in the fifth set.
Gwyn Bellamy, a senior, said, "The culture this year is so much better [compared to last year]. We trust each other more. The Leafs have won more games this year than in the last three seasons combined, and they still have eight more scheduled this year.
The Leafs started the year with a couple of goals in mind: "to intentionally work on trust within our team and [to be] prepared for practice each day," Bellamy said. Beating IUSB gave the Leafs "good reassurance," she added.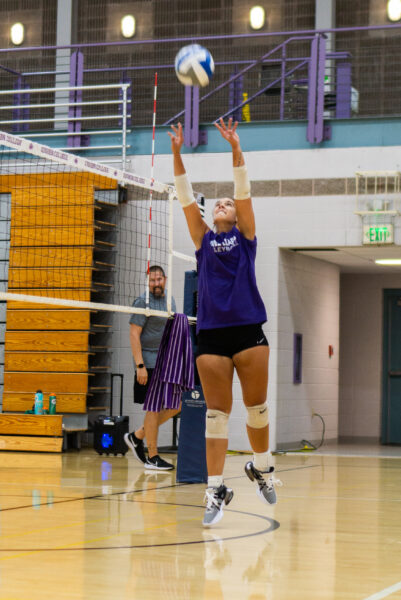 The women's volleyball team has been working specifically on trust and preparation for practice, as seen above. Gabe Martinez for The Record
According to Lynch, the Leafs entered the game "with a different mindset" and felt excited after the win. "It was nice to snap the losing streak," Lynch said.
The Leafs travel to Calumet College of St. Joseph this Friday and play at 3 p.m. 
With reporting by Kevin Liddell