The Goshen College track and field team had a successful outdoor debut with both the men's and women's teams taking runner-up at the Anderson University Raven Invitational on Saturday.
The lady Maple Leafs finished second in the competition, qualifying behind Anderson University. The Maple Leafs won four events and had 38 top 10 finishes.
Relays made a strong debut with two teams taking first place in the 4×100, with a time of 52.63 seconds, and in the 4×400, where the team had a time of 4:25.13.
Individually, Dana Christner, a senior, who ran a 2:32.28 time, earned the 800 meters title. Junior Maria Jantz also took the individual title in the pole vault, 8'6.25″. The throwing events gave Goshen College 12 top finishes in three events, where sophomore Tyra Carver had the most successful performance, finishing second place in discus, 113'2″.
The men also received second place overall just four points behind Anderson University.  In the men's events senior Kyle Mishler set a new school record for the high jump and was one of eight event winners for the Maple Leafs. His jump cleared 6'8", qualifying him for the NAIA National Championships in Alabama. In the same event, juniors Derek Swartzendruber and Thomas Leonard finished second and fourth, respectively.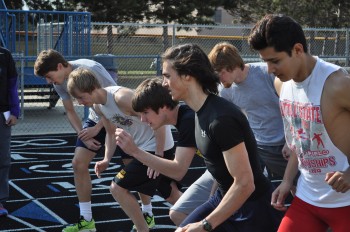 The Maple Leafs took five of the top six spots in the 5,000 meters. Junior Jordan Smeltzer led the pack finishing in 16:00.25, followed by Isaiah Friesen, a first-year; Alejandro Rodriguez, Moses Kaelo, juniors; and Daniel Klink, a first-year.
Sophomore Lucas Harnish had debuted winning the title in the 800 with a time of 1:58.30, followed up by Daniel Zelaya, a junior, who finished in second position. Tijs Buskermolen, a senior, and Luke Graber, a freshman, also placed within the first six finishers. Graber got the victory in the steeplechase with a time of 10:32.10. Other winning events came from Tim Lehman, a sophomore, who won in the 400 meters with 52.03; junior Aaron Frost also got the victory in the javelin, 139'5″, and shot put, 38'8.25″; Leonard took first place in the long jump, 20'4.25″.
They will be back in action on April 11 and 12, when they travel to the Little State Championships hosted by Indiana Wesleyan.
Sidebar:
Smith to Transfer 
Ryan Smith, who set the 3K school record in the track and field indoor season, won't participate in the rest of the season.
Smith transfer to the NCAA D1 school, University of Houston. He will be red shirted during the outdoor season, meaning that he will not compete anymore for the Maple Leafs.
"Coach Yoder made a very selfless offer to have me sit out so I can compete four more years at the D1 level in outdoor track," Smith said. "For indoor track and cross country, I will have to sit out a season of D1 though since I already competed a season in each here at Goshen."
According to Smith, the reason for his transfer are that he wants "to run in a higher level of competition."
"I feel like the best way of accomplishing my goal of going professional is through D1," he said. Another reason for Smith is the coaching at U of H.
Smith said, "The coach there, Steve Magness, has worked with multiple Olympians, including Galen Rupp and Mo Farah, who got first and second in the Olympics 10k, and will also have connections to good sponsorships after college."
Though he will transfer, Smith won't stop practicing with the team.
"I am practicing mostly with the team here at Goshen. However, I don't do all the workouts with them," Smith said. "I am timing my peak performance at a different time and trying to get myself used to some of the training I will do at Houston. This requires me to miss some of the harder days here."
He also has a separate schedule that brings him to D1 meets, running unattached, and he will attend a professional meet in June.
Although he is stepping to a higher level of competition, Smith said that has not changed his goals and that he will try to make nationals.
"It is very tough to do, but I am ready to put in the work to do so," he said. "I would like to get the Olympic B standard in the 5k (13:50) in outdoor track."