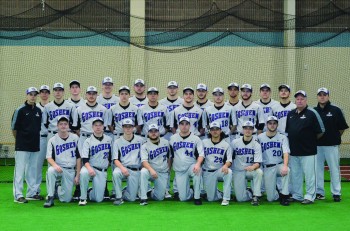 2014-2015 Baseball team
Goshen's baseball and softball teams traveled for sunny skies over spring break, with the baseball team heading down to Florida, and the softball team going to California. The trips marked the first time either team was able to be outside since the fall. The baseball team ended their break by winning 2 out of 6 games, and the softball team ended theirs with a record of 0-9 to start to the season.
The baseball team got off to a fast start, whipping Warner University 9-2, with sophomore Michael Walker pitching a complete game, surrendering only 4 hits and striking out 7. Fellow Sophomore Vincent Caschera and first-year Cody McCoy added a pair of RBIs apiece, with Caschera contributing a homerun as well. The Maple Leafs next victory came against Cleary University, with sophomore Blake Collins earning the "W" in a 5-2 decision. Like Walker, Collins went the distance giving up only 2 runs on 5 hits while striking out 3. Sophomore Mikey Namisnak recorded a team high 2 RBIs with Caschera, McCoy, and junior Bryan Aponte each added 1 RBI each.
Head Coach Alex Childers was very positive about the trip. "The trip went extremely well.  We have been training for about 6 weeks indoors and we were finally able to get outside and compete. Michael Walker's pitching performance in game 1 was awesome to watch.  There are not many guys that work as hard as Michael does, so to see him have success was awesome.  Blake Collins, a first-year transfer, pitched great against Cleary and picked up his first collegiate win. Vincent Caschera hit 2 homeruns and had good at-bats all week.  First-year Brad Stoltzfus hit .400 on the trip and made some great defensive plays, including one to end the game against Cleary in our 5-2 win.  Legitimately all 24 guys contributed and the trip was a total team effort.  I was proud of how selflessly we played, and the energy and effort we displayed."
Conference play begins on March 19 for the Leafs against Grace, weather permitting of course. Childers ended by saying "We should be a young, exciting group to watch play this year and as always we are thankful for the support we get from administration and faculty throughout campus."
Things didn't get started quite as well for Goshen's softball team, but their record is deceiving and doesn't reflect how they played. Many of the games on their trip were close and ended up being decided by only a few runs.
Head Coach Kristen Kolter had many good things to take away. "I think we did well for being outdoors for the first time since fall ball. It always proves challenging to face teams that have been practicing outdoors all year, not to mention they have a 10 or so game head start. I truly think we saw some of the top teams in the country, which is great preparation for conference play.  Teams in California are very strong and we saw every possible scenario possible and will be better long term because of that."
The record is also not a good indicator of individual performances. Sophomore Miranda Robles hit the team's only homerun and recorded 6 RBIs on the trip. Sophomore Jessica Cagigas and first-year Taylor Caouette added 3 and 2 RBIs respectively. Robles, senior Melanie Meyer, and junior Kylee Welch all ended the trip hitting above .400.
Kolter focused on the positives of the team's trip to California, saying, "The girls did well playing some of the top competitors in the country. By the end of the week our offense was up and running which was exciting to see."