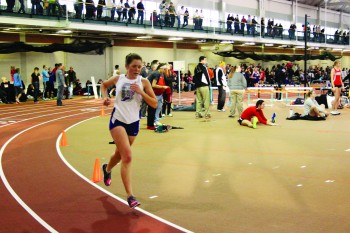 Hannah Barg, junior, rounds out a turn in her race at the Anderson Raven Invite.
The Goshen College track and field teams had another important performance Saturday afternoon at the Raven Indoor Invitational hosted by Anderson University. The Maple Leafs had a national qualifier and several top-three finishes. With this national qualifier, the Maple Leafs will have six runners in the NAIA national meet, which will be held in Geneva, OH in less than a month.
Sophomore Ryan Smith won the event and broke his own school record with a time of 8:38.49 in the 3,000-meter run. This time made him qualify for the NAIA nationals and it improves his previous time by 4.43. Other men that had an outstanding performance were seniors Daniel Zelaya, Thomas Leonard and Kyler Lehman. Zelaya finished first in the 1,000-meter run with a time of 2:44.19. Leonard participated in two different contests, finishing second in the long jump and third in the triple jump. Lehman missed the school record in the 60-meter race by 0.07 seconds.
Mollie Nebel had another remarkable meet after she finished third at the 800-meter event with a time of 2:25.47. Freshman Jill Steinmetz took seventh in the same event. In the 60-meter hurdles, Nebel ended up second. The senior runner talked about her preparation for the track and field season this year. "Track started practicing in the fall, but I actually didn't attend any of the practices because I was in cross country and then I took a few weeks off to rest," she said. "So I really didn't start practicing until this semester." Last year, Nebel could not compete in indoor track due to an injury, so this year she feels more confident in the races.
Her next goals for indoor season are "to keep decreasing my 400 time and get ready for outdoor season." Nebel did not run the 400-meter run this past week, but she has two meets remaining to achieve her goals. For the team, she believes that the overall goal for indoors is "to train hard, gain speed and not get injured so we can have a great outdoor season."
Nebel is having a good year as she broke the school record in 400-meter twice this season. "Breaking a record was pretty cool. I honestly had no idea that I broke a record the first time until my coach called me after the meet letting me know the exciting news," she said. "It was probably more exciting the second time when I had improved my time by over a second. My parents were also there at that meet from Kansas which made it even better," Nebel added.
The runner from Kansas talked about the team as well. "As far as the team goes, I feel like the team seems more united this year," she said. Nebel added, "Also, our coaches care a lot about us, which is always a nice feeling. Not only do they care how we do in competition, but with other parts of our life as well, which is something I really appreciate."
According to Nebel, one of the things that helped to build the team's chemistry is that "Jim, the sprinting and jumping coach, took all of the sprinters to see a movie one of the first weeks back into the semester, which was a lot of fun and super nice of him."
Overall, the men qualified in sixth place among the 15 teams that competed in the event, while the women ended up 11th of 14. The next competition for the Maple Leafs will be Defiance Winter Open on Friday, Feb. 13. Goshen will host a race walk invitational on Saturday, Feb. 14 at 11 a.m. in the Roman Gingerich Recreation-Fitness Center.
Full Goshen results are at GoLeafs.edu.