Late Thursday, the Zero Waste Goshen webinar series will dive into the local recycling scene with guest speaker Daniel Zelaya. Zelaya, a representative from Recycling Works, the largest recycling plant in the region, will be the second speaker in the series.  
"We realized we were on this unsustainable path, and [reducing waste] became not just the right thing to do, but a need."  
— -Theresa Sailor
The Zero Waste Goshen initiative and webinar series was launched by the City of Goshen's environmental resilience department in September, with funds from a grant through the Community Recycling Grant Program of the Indiana Department of Environmental Management.
"We've been on a trajectory for the city of increasing our waste 10% per year for the last several years," said Theresa Sailor, who works for the environmental resilience department and wrote the application for the grant. 
Last year, the city spent 1.5 million dollars on waste disposal at the landfill.  
"We realized we were on this unsustainable path, and [reducing waste] became not just the right thing to do, but a need."  
In order to encourage Goshen residents to throw away less trash, the department is holding a challenge that began in September of this year and will culminate on Earth Day (April 22). Participants in the program are taught to track their waste, are given free products like reusable bags and toothpaste tablets (no tube to throw away) to try out and are invited to attend monthly webinars hosted in partnership with the Goshen Public Library.  
"The idea," Sailor said, "is to give people ideas, opportunities, and then slowly change habits." 
About 30 people attended the first webinar in September, at which Kate O'Neill, the author of Waste and a professor of Global Waste Politics at University of California-Berkeley, gave an overview of the global waste situation.  
Thursday at 6:30, Zelaya will bring the issue closer to home.  
Zelaya is a Goshen College alumni who graduated with a business degree in 2005 and is now the plant manager at Recycling Works. The message he wants to share is about mindfulness.  
"Be mindful of what we throw out there into our environment," Zelaya urged. 
Being mindful also includes knowing where waste and recycling goes once it is hauled away in a truck. 
Recycling Works, which is part of the Waste Away Group, is a material recovery facility that provides recycling services for northern Indiana and southern Michigan.  
At the plant, located in Elkhart, recyclable materials are sorted, bailed and sold to brokers who transport them to factories where they are broken down into fibers and made into new products. At least 90% of the materials that pass through the Elkhart facility are processed in the Midwest. 
This summer, the Recycling Works plant underwent a 1.5-million dollar upgrade.  
"It was a huge renovation," Zelaya said, "which [lets] us expand our geographic footprint and process more materials."
The plant is looking for new sources to fill its increased capacity, and the city of Goshen could be a good candidate, Zelaya said.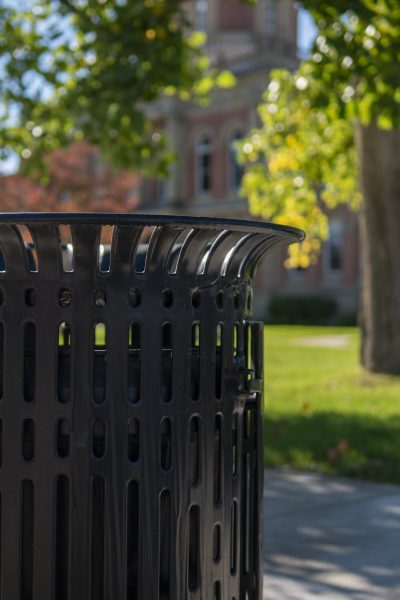 While the City of Elkhart offers curbside recycling services along with garbage pickup, residents of Goshen have to take their recycling to drop-off locations, like the one located on the Goshen College campus.  
"If the city of Goshen were to come on board with us," Zelaya said, "that would definitely eliminate a lot of waste and greenhouse gasses being thrown out into the environment."  
Students in the Sustainability Leadership Semester visited the Recycling Works facility a few weeks ago.  But so far, there has been little interaction between the Zero Waste Goshen group and Goshen College. Sailor hopes that will change.  
"Totally sign up for the challenge," she encouraged students and employees. 
She also recommended joining the Facebook group and attending the webinars.   
In addition, Sailor is looking for four or five families from Goshen to serve as poster families for the challenge. In exchange for documenting and sharing their journey, these families will receive free curbside recycling services.  
"There aren't a lot of people who are getting it right," Sailor said. "Everyone is on the spectrum one way or another, so we really just need to support each other and find ways to improve our success rate."
Zelaya offered practical advice: don't put recycling in plastic bags. Stick to the basics: cardboard, plastic bottles, aluminum and paper. 
And "always take the extra minute — two minutes — to clean out those plastic bottles." Dampness and food residue will be removed when materials are broken down, but, he said, working with clean materials "makes our processing at our facility a lot better."