Westlawn Dining Hall received a make-over over fall break. The changes include all new tables and chairs, new flooring, art and signage.   
The renovations, carried out in partnership between AVI Fresh and Goshen College, were meant to improve the dining experience at Westlawn and make the space feel less like a generic cafeteria and more like a part of the Goshen College campus, said Danielle Pagoria, the interior designer for the project. 
Plans for the renovation began a couple of years ago while Pagoria was working with Glenn Gilbert on renovating the communication center. 
"At that time, we were only looking for new carpeting," Pagoria said, but "during conversations with AVI, stakeholders in GC … we eventually grew the scope of the project to what you see now in the dining hall: new paint, new graphics, flooring, furniture, lighting and art to refresh that space a little." 
Each detail was thought through carefully. 
"Square tables allow you to push tables together like building blocks to create large communal tables," Pagoria said. "Taller two-tops are better if it's only one or a couple people, who won't feel so awkward taking up a whole table."  
The new color scheme combines Goshen College purple and AVI green. The new lighting arrangement includes lights that can be changed to different colors for different occasions.  
The Pepsi machines were swapped out for Coke ones (one of Pagoria's favorite changes).  At the Fusion station, a bar table and stools allow the possibility of a more interactive cooking experience with Jeremy Corson, the executive chef.  
By the fireplaces on the north and south ends of the dining hall, a collection of artwork by students in last May's sculpture class is on display, along with copies of Goshen College yearbooks from the past.  
Finally, in the lobby outside the dining hall, a new set of tall tables and chairs are available for students to use for club activities or sign-ups.  
The renovations were made over fall break, during which time students were served their meals in the church fellowship hall and later the Leaf Raker. The cafeteria was re-opened on Friday.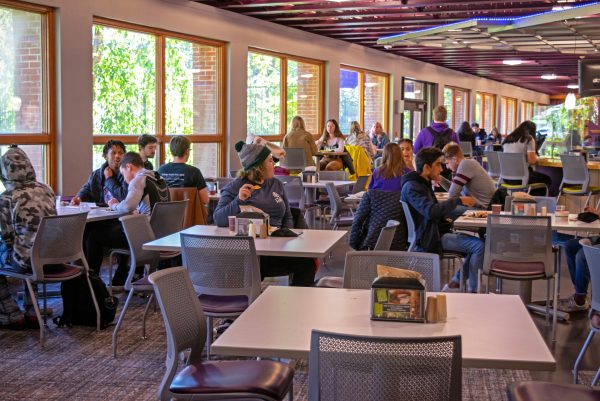 Students have mixed reviews about the changes. 
"I like the new tables in the Rott," said Summer Cooper, a sophomore who eats at the dining hall regularly. 
But, she added, "it feels super packed in there. When I was eating there the other day, I was trying to weave through tables."
Kevin Liddell, a first-year, said, "The square tables are small but easy to combine together to make bigger groups, which is nice."  
"One thing that is really a problem is how the chairs get stuck on the carpet and make getting up difficult," he said. 
But, in his opinion, Liddell said, "Overall, the change to the Rott furniture was the right call."