Isaac Steiner would have turned eight this Thursday.
Instead his parents, Rob and Sarah Steiner, will face a difficult birthday in remembrance of their son, the first since Isaac lost his life to a 21-month battle with brain cancer last March.
Throughout Isaac's devastating fight, the family found some solace in the support of their community – and their nurses.  This support led his parents, both Goshen College graduates ('98), to create a scholarship for GC nurses, wishing to continue the kind of care Isaac had.
"Isaac loved his nurses," said his mother, Steiner. "They developed relationships with him, knew what he liked and didn't like. Good nurses are really, really important."
[caption id="attachment_29541" align="alignleft" width="459"]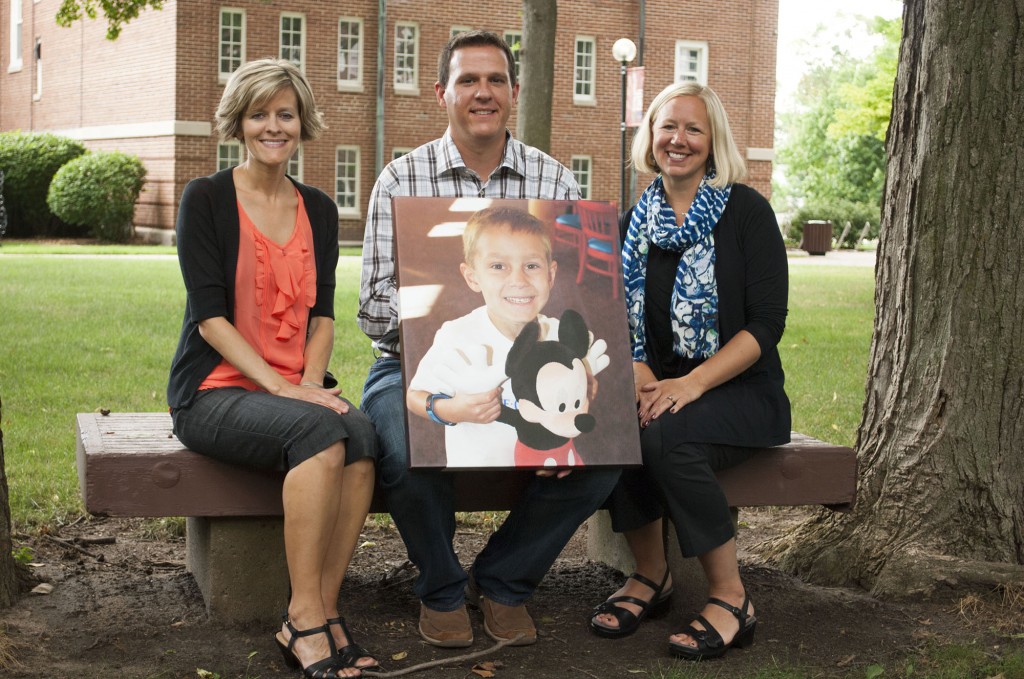 Lesley Rutt Dyck, the first recipient of the Isaac Steiner scholarship, with Isaac's parents, Rob and Sarah.Photo contributed by Comm Mar[/caption]
The family, who lives in Jefferson Twp., received an overwhelming amount of monetary donations when Isaac was sick and had a lot left over. Her husband, Steiner said, is really organized; he's "the kind of parent that set up college funds for our kids the week after they were born." They had hoped Isaac would go to Goshen College.
"It was the natural way to do a memorial for him," said Steiner.
Isaac was known as the "LEGO master." Even during treatments, he still built with his collection of more than 78,000 pieces. LEGO, said the scholarship statement, got word of Isaac's story and were so inspired by him that they named Isaac a 'Master Model Builder.'
"He would say Legos were his favorite thing aside from family," said Steiner, who described him as smart and introverted. He was able to travel to 19 states with his family and he loved puppies; he and his brothers, Jonah, 10, and Eli, 4, were given a miniature golden doodle, Nipper, when his parents found out Isaac's diagnosis was terminal.
Isaac, who was able to start his first grade year, was cared for at Memorial Children's Hospital in South Bend, Riley Hospital for Children in Indianapolis and Center for Hospice Care in Elkhart. After his first big surgery, according to the statement, he said he felt "Jesus and His nurses" with him.
"Isaac's neurosurgeon started out as a nurse," said Steiner. "You could tell a difference in her bedside manner. She had a lot of care and compassion you don't always see in doctors."
Steiner and her husband will not choose the recipient of the scholarship themselves, but explained their wishes to the college. The Nursing department, along with the student financial aid office, will select a student each year. The scholarship guidelines indicate that the student chosen should "have demonstrated to nursing faculty that they will likely be nurses who care for their patients in the way Isaac was cared for during his many treatments." For Steiner, it is important that the student be chosen based on performance and academics, rather than financial need, a person who is "caring and compassionate."
Lesley Rutt Dyck, a senior, is the scholarship's first recipient and is receiving funds for the current school year. Rutt Dyck, a former social worker, was inspired to become a nurse after breaking her arm and watching the nurses take care of her; she went back to Goshen for a second college degree.
Dyck and the Steiners both attend Belmont Mennonite Church in Elkhart and are good friends. Dyck said their relationship made the scholarship "very meaningful."
"I'm really honored to receive the scholarship," said Dyck. "I am grateful that I will be able to be a nurse, knowing how much Isaac's nurses meant to him and hoping that I can be the same for patients that I will serve."
Said Steiner, "We hope recipients can read Isaac's story and know that they can really make a difference in the world of nursing."
Contributions to the Isaac R. Steiner Scholarship Endowment can be made at the Development Office.