Several weeks ago, Goshen College's 91.1 The Globe (WGCS) and its students were nationally recognized at the College Broadcasting, Inc. National Student Radio Productions Awards in Minneapolis.
Danielle Kerschhackl, a senior broadcasting and ASL double major from Elmwood Park, IL, came home with the award for "Best Audio DJ." Kerschhackl credits her success to the hands-on experience with the radio station since the beginning of her first year.
"I didn't have to be an upperclassman to get experience—my first year I was on air and getting experience," said Kerschhackl. "This is a unique part of Goshen College, their broadcasting program and a liberal arts degree."
The CBI hosts one of three main national competitions for radio that happen every year. According to their website, the CBI's mission is to promote education and later professional opportunities to college students and their advisers through events, programs and a network of advocates working to support media production and excellence. Their awards were for audio, video and combined online medias and has been an annual event since 2002.
According to the CBI's qualifications, the "Best Audio DJ" award is given based on a 5-minute clip of their on-air announcing skills, highlighting their on-air radio personality with small parts of music to separate the segments.
It is intimidating to imagine showcasing your talents in such a short time, but being recognized on a national level for this is affirming for Kerschhackl and her abilities.
"It is such an honor to be recognized for anything on a national level, but it shows me that I am able to convey a concise message that is informative and interesting," she says. "It gives me confidence for my future in the radio industry".
In 2014, "Ashlee Evans Air Check" was a finalist and in 2013, the program "Kelsey James" by Kelsey Morris won the award.
Goshen was also awarded "Best Audio Newscast," which is an award given to a single regularly-scheduled news broadcast. The award is based on the content, news judgment and the service of the information to the wider community, although there are considerations to the technical side of the production, like writing, use of audio, editing and other factors.
The "Globe News" newscast was from a Comm 190 class with collective efforts from Brad Stoltzfus, sophomore broadcasting major from Goshen, Karina Flores, a junior broadcasting major from Goshen, Riley Mills, a sophomore broadcasting major from Milltown, IN, Berke Beidler, a sophomore broadcasting major from Lancaster, PA, Andrew Snyder, a junior broadcasting major from Goshen, Quinn Brennemen, a sophomore broadcasting major from Goshen, and Spencer Buttermore, a sophomore broadcasting major.
The Globe was won this award for this category in 2014 and was a finalist in 2013.
Jason Samuels, assistant professor of communications and the station's general manager, was proud of their work and effort. "This group deserved the award because of their hard work and extra time out of class," said Samuels.
But to be sure, none of this would be possible without Jason as well. Brad Stoltzfus said that Jason Samuels' desire to help committed students succeed is empowering. "It is assured that he is putting forth effort to aid his students in their aspirations to reach their highest potential," he added.
The Globe is no stranger to national recognition. WGCS was named the "Best College Station in the Nation" in 2011 and 2013, was a runner-up in 2012 and a finalist in 2014.
Along with "Best Audio DJ" and "Best Audio Newscast," the Globe was also a finalist for the " Best Audio Public Service Announcement."
[caption id="attachment_32132" align="alignright" width="422"]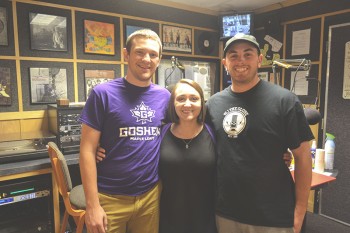 From left: Andrew Snyder, Danielle Kerschhackl, and Brad Stoltzfus.Photo by Marissa Hochstetler.[/caption]