Goshen's first indoor half marathon will be held at the RFC indoor track and will take place over the course of one full week.
According to Doug Yoder, organizer of the half marathon and head coach of the cross country and track and field teams, the event is scheduled this way so that students, staff and faculty can run the half marathon whenever it fits their schedules. However, participants are required to schedule the day they will run the half marathon in advance to avoid an excess of people running at the same time.
A half marathon on the indoor track is 102 laps. Participants are asked to bring someone along to keep track of laps and to record time.
Though anyone can participate, Yoder's original intent was for the half marathon to be an event within the campus community.
"Running 102 laps isn't as bad as it sounds. You're switching directions every half hour and we're going to try to get music going for the runners. It can be a fun experience because of the camaraderie going on," said Yoder.
For those who do not want to run a half marathon by themselves, relay teams ranging from two to five people are allowed to participate as well.
Everyone who participates will get a medal, and, for ten additional dollars paid at registration, a dri-fit shirt commemorating the event.
The entry fees for the event are $25 for a single runner, $50 for a relay team of two and $75 for relay teams of three to five runners.
According to Yoder, the proceeds from the event will be donated to charity.
"It's a fundraiser to provide food for elementary kids who aren't going to get anything to eat all weekend long," said Yoder. Though he doesn't have a specific school in mind yet, he stated that he will see what schools have that need and will give the proceeds to them.
In addition to being a fundraising event, the half marathon is also a way for the department to encourage an active lifestyle. According to Val Hershberger, associate professor of kinesiology and co-organizer for the half marathon, the Kinesiology Club partnered up with Yoder to help organize and promote the event.
"We're really excited. We are trying to encourage students in wellness and also those with New Year's resolutions," said Hershberger.
"We want to put that challenge out to people. Get a team or even a walking group together. There are people there cheering others on. It's pretty cool. It's a little different and a little unique."
Those interested in participating in the half marathon can pick up an information and registration sheet at the RFC front desk. The final date for registration is January 21.
For any further questions email Doug Yoder at dougy@goshen.edu or Val Hershberger at valeriejh@goshen.edu.
[caption id="attachment_30885" align="alignleft" width="262"]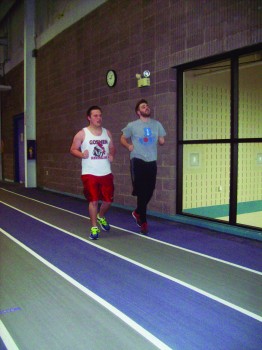 Two community runners train for upcoming half marathon[/caption]