Merry Lea's annual sustainability summit will return this Saturday after a year off. 
In years past, up to 50 attendees from various states gathered at Merry Lea for a long weekend of activities. Because of the pandemic, the event was shortened from three days to a three-hour online program this year. But Tom Hartzell, coordinator of residential undergraduate programs at Merry Lea, said that the "goals remain the same."
Given that it can be "hard to hold attention" for long periods of time online, Hartzell hopes to keep the participants captivated with a variety of sessions, including speakers, breakout groups, networking sessions and possible follow-ups. 
The event is organized in partnership with Hiram College in Ohio. This year's theme will be "Sustaining the Self," which highlights ways to mitigate the all-too-common climate burnout that many sustainability advocates face. 
Zack Fox, the sustainability coordinator at Hiram College, said that for a typical person working in sustainability, a "phase of depression" typically ensues after the initial excitement fades — and "it needs to be addressed."
It's common for sustainability workers to get overwhelmed with the daunting work needing to be done globally, as well as the increasingly dangerous threats to people and the planet if the climate crisis is not mitigated sufficiently. 
Fox said that he has experienced that feeling himself and wished he would have had better resources to deal with it. "Once I realized that it was something nearly every student goes through," Fox said, "[it became clear that] just as important as understanding the actual problems is understanding how to deal with it emotionally."
Hartzell agreed. "If we're burnt out, it's going to be impossible for us to do a good job with the important work we need to do," he said. That's why this year's summit will aim to give attendees "tools and practices" that will be helpful in "processing all kinds of challenges, [from] climate change, [to] connecting socially, [to] taking care of ourselves," and then sharing those tools with communities so that sustainability issues can continue to be addressed.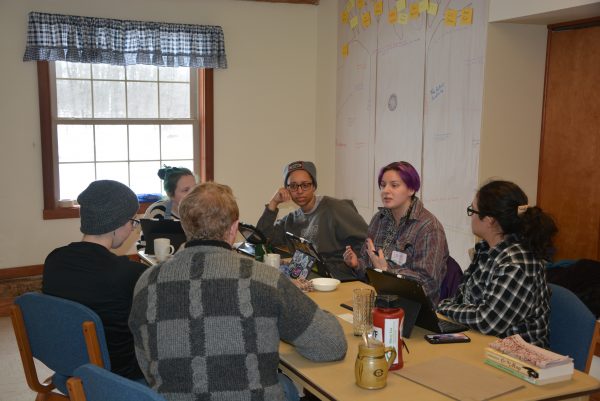 One of the presenters at the summit, Sara Gurulé, is a student at the Anabaptist Mennonite Biblical Seminary who participated in the sustainability leadership semester at Merry Lea last fall. She will be presenting on a meditative practice she's developed that works with "lamenting and grieving over environmental loss."
Gurulé said many people are "inundated with information on how the environment is collapsing … and [the feeling that] there's nothing we can do." She described her personal experience with "grief, panic and almost hopelessness." 
"What do we do when we feel like we can't do anything substantial?" Gurulé asked.  
This is where her practice comes into play. "I've been researching the role of grief and acknowledging what we're grieving as a way of responding … in a way that allows us to have resilience as well as the ability to have a creative imagination of what can be done."
The summit's coordinators are excited to talk about how collective climate action can help alleviate some of the burden people may feel. "It's amazing what we can do as individuals," Gurulé said, "but it's even more amazing to combine our unique skills and talents and passions in a communal way."