Talent was flowing like a river Saturday night. "Tonight is a night to take the talent we already know is there, and make it visible for all to see," said Joel Kawira, a member of Campus Activities Council, who played President Obama in the show's introduction.
This semester's Kick-Off, entitled "Menno Night Live," was also a demonstration of the support and love Goshen College had to offer for its own Eddie Mayorga, a college employee. A version of the show was put on at 7 p.m. for community members, which Mayorga attended. A 10 p.m. production was presented for students.
Proceeds from both shows went to fund the construction of Mayorga's new Habitat for Humanity home. Tom McArthur, executive director of Elkhart County Habitat for Humanity, personally thanked the crowd, while Bill Born asked students at the second show, "Do you feel as good as you look?"
Energy and anticipation surfaced fast as students waited for the show to begin. "I'm feelin' good. Feelin' good. Feelin' real great," said sophomore Isaac Fast on his way to the show.
"I'm excited. I expect to see J. Mill," said Minah Kim, a first-year, referring to John Miller.
Gloria Showalter, a first-year, was ready for "lots of laughs... and acts that are incredibly entertaining."
"I'm feelin' really pumped for the festivities," said Michael Miller, a junior. "Some things just really bring people together, and this is one of them."
For some performers, doing two shows meant a long six-hour night that left them exhausted, but it was well worth it. "It was really good to see a large community turnout," said Lauren Treiber, a member of the band Moral Circus. "This is good; it's just a different vibe. A peer to peer vibe," she said of the second show.
Ben Baumgartner, a senior, had a slightly different view. "I performed already, and the crowd was very small, very old. They were appreciative; they just weren't energetic. They clapped. They didn't get up, go crazy. There are a lot of pop culture references here," he said.
"They didn't get the Nyan Cat reference," added Aaron Kauffman, also a senior.
Phil Scott, also of Moral Circus, talked before the show about the band's original composition, "Altitude." "There will be building energy, quite like how one might go about building a skyscraper; it will get taller, but we won't drop you off the cliff. We'll bring it down a little bit," he said.
Mohammad Rasoulipour, a senior art major who had never been to Kick-Off before this spring, gave his reason for attending. "Friends, I guess. Yeah, they forced me."
Highlights of the show included a song by Sweet Honey in the Rock, performed by the Von Lapp family singers, much marimba madness by Christian Good and Jacob Shetler, and a chaste rendition of "I Believe in Miracles" by the Mennonite Mamas. Dance was also included in the program, with Sam Weaver and Kayla Hooley presenting interpretative dances.
Hans Weaver, of The Hipster Pops, introduced his group, saying, "We're kind of a big deal, but we don't want to be a big deal. We are art."
Many were impressed with the talents of their peers and expressed this during the intermission. "It's really enjoyable. I have a place in my heart for brass; they always hit the spot for me," said Grant Miller, a junior, referring to the climax of Moral Circus' "Altitude."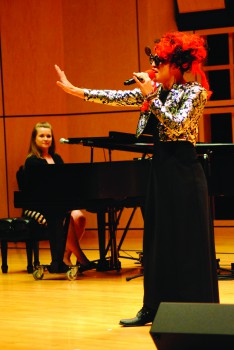 "Favorite moment so far...Sammy Rosario as Lady Gaga. It was phenomenal!" said sophomore Colin Gregory.
"With AVI Fresh!" added Alysha Landis, Acting News Bureau Coordinator, referring to Rosario's back-up dancers.
Asked to rate the show, Jacob Maldonado Nofziger, a sophomore, said: "Goodness gracious. I'd have to say an eight out of 10. The two stars are probably gone from... I've just seen shows on the Internet that are just, you know... I hope that beyond Goshen College, there's something more to give me, that there's more to offer. I don't want that high point of my life to be Goshen College. But my goodness, what a great show."
Anita Stalter, vice president for academic affairs, Al Mackowiac, director of campus security, Jeremy Pope, admission counselor, and Jess Sprunger, a sophomore art major, all acted as judges.
Third place for the night was awarded to The Corduroys, with their a cappella rendition of "I Just Haven't Met You Yet" by Michael Buble. Second place was given to Nate Manning and Maria Koshmider for their performance of "Hold On." First prize went to Matt Lehman and Friends for their skit about a boy and girl meeting for the first time. After the show, students went to the KMY Connector for an after-party hosted by CAC, reveling in the spirit of creativity.