When it comes to social justice and faith issues within the church, a little humor can go a long way. This is exactly what actor Ted Swartz and his team of talented musicians and actors provide for audiences across the U.S. Through comedic storytelling and passionate messages, Ted and Co. raise important questions about the true meaning of the church, social justice and gender issues.
[caption id="attachment_29548" align="alignleft" width="234"]
Ted Swartz will be a special guest on campus next week.Photo contributed[/caption]
Fortunately, Ted and Co. will be gracing the Goshen College campus with their new show, "Learning to Play", during convocation at 10 a.m. on Monday, January 27. This show, which discusses sexuality and the church, is coming at an important time, as the GLBTQ community is influencing policies and discussion on campus and within the Mennonite church. The show will bring up and promote important dialogue revolving around the hiring policy here at Goshen College as well as the efforts being made at Eastern Mennonite University.
Ted Swartz, who has visited GC campus a few times before, describes his personal view of Goshen, as "a place of cultural, spiritual and formational fermentation---as should be all colleges and universities. I am excited to be back on campus to participate in that fermenting process," he said.
"Goshen has been one of the places where art is celebrated as a crucial element to understanding God and the world around us and it feels very right to be there on campus presenting art as a bridge to greater understanding between folks. Plus, being with a couple of talented recent grads (Patrick Ressler and Justin Yoder) is pretty cool---always want to be as cool as possible," said Swartz.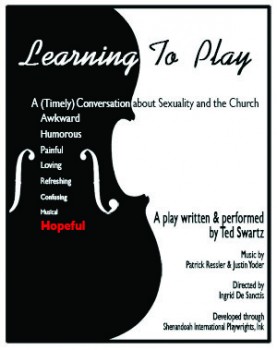 Ted and Co. will also be giving their show, "I'd Like To Buy An Enemy," in Umble on Wednesday, January 29 at 8 p.m. - admission is free to all GC staff and students. Convocation credit is available, and there will be a discussion following the performance with Ted Swartz and Tim Ruebk, actors and MCC representatives. This will allow time for reflection on the U.S.'s role in the world and how we as a campus community can work for peace as a country and a community.
For more information on Ted and Co. upcoming events, as well as access to DVDs, video clips, scripts and more, visit their website at http://www.tedandcompany.com/.