Thirty-nine flags, 30 performers, 12 acts, three hosts, and what one performer called a "flamboyant" audience of over 320 people marked the return of the International Student Club (ISC) Coffeehouse.
After two years of cancellations and restrictions due to COVID-19, Goshen College's international students showcased the best of their countries' music, clothing, dance and culture on Saturday.
This year's theme was an exploration of different identities, with the hosts referring the night's program as their "map." The set list included six songs, three dance numbers, two presentations and a poetry reading.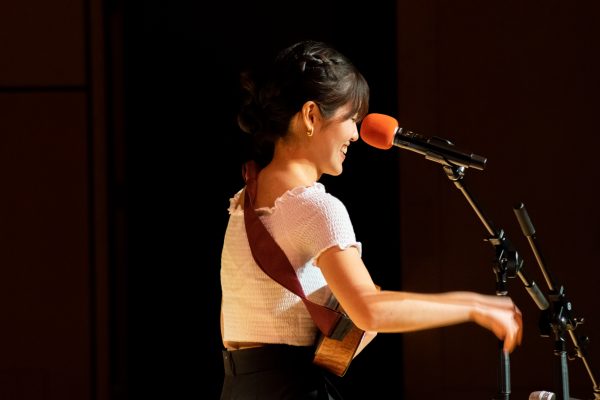 The Ukraine crisis was a key focus for the evening, as the country's blue and yellow flag hung front and center on the stage. 
Alena Morgunova-Miller, a junior Spanish education major, performed a Ukrainian lullaby with her brother Gregory to end the Coffeehouse. While her brother played the cello, Alena sang the lyrics that their mother would sing to them as children, which she translated as, "star shining down on the people living in darkness."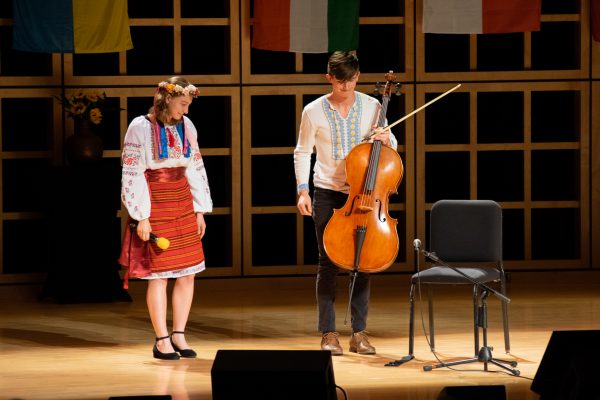 Part of the evening's proceeds went to support Mennonite Central Committee's Ukraine relief efforts, and Dan Koop Liechty, advisor for international students and the ISC leadership team, estimated that over $2,000 was raised for both Ukraine and for the ISC.
Suzanna Yoder, a junior social work major, attended the event for the first time this year. She said: "The coffeehouse was my favorite event that I've seen in all my years at GC."
Yoder added that she "could tell how proud and happy they were to share about where they're from, and it was really cool to see. I was very impressed with everyone's talent."
Koop Liechty said that "many of the acts, especially the dance ones, [have been] practicing since the beginning of the semester. It's a huge commitment and we're so appreciative of the efforts of our students."
Wendo Kisila, a junior psychology major, performed two spoken poetry readings. His first poem was "Kuna Ubaya," a poem written in Swahili that questioned his perspective as a Black person in America, where he has the same skin but perhaps different experiences of discrimination compared to other Black people.
His second poem, "Spirit Lady," was written a couple of weeks ago when he was on his way home from spring break and spent the flight chatting with the woman next to him. 
Kisila said that he thinks of poetry as "playing with words, and trying to make them sound good," and has a poetry book that he adds to often.
Even though he was nervous on stage, "as the lights shone down," Kisila said, he became excited, telling himself that "it was my moment."
Another act was a Kahoot game run by Bongiwe Ncube, one of the ISC leaders. She opened her presentation by complimenting the "flamboyant" audience, and over 200 of those audience members competed in the Kahoot.
In addition to raising funds for the ISC and Ukraine, Koop Liechty also awarded scholarships to international students for their contributions to the community. Grace Muhagachi, Ayaan John and Kisila all received scholarships.
Kisila said that he was grateful for the "generous" award, and that "Goshen is full of opportunities — they just keep giving."