Jakyra Green won first place in the C. Henry Smith Oratorical Contest on Tuesday evening with her speech, "The Privilege of Peace."
Her speech focused on the illusion or privilege surrounding peace for Black people and their realities in America.
The culmination of several months' work was showcased as competitors gave their speeches. 
Speakers were able to offer new perspectives on their chosen themes, give the audience space for consideration, relate through laughter and audience engagement and hear words of affirmation as they spoke. 
After all of the presentations, judges Gilberto Perez Jr., vice president for student life, Elizabeth M. Miller, GC assistant professor of history and director of the Institute for the Study of Global Anabaptism and Mennonite Historical Library and Malinda Berry, associate professor of theology and ethics at Anabaptist Mennonite Biblical Seminary began their in-depth deliberation process. 
"We began our deliberation by marveling at the universally high quality of the speeches given," Miller said. "We felt that each speech shone in a particular way, whether it was integration of personal experience, connection with the audience, structure, quality and depth of research, creativity of approach, presentation style, etc." 
"Gilberto and Malinda are highly-respected colleagues, and I was honored to work with them," she added. "Thankfully we experienced a lot of synergy in our deliberations, leading us to a final decision."
Second place went to Caleb Shenk, a junior accounting major with the speech "Protesting Taxation as a Peace-Seeking Accountant."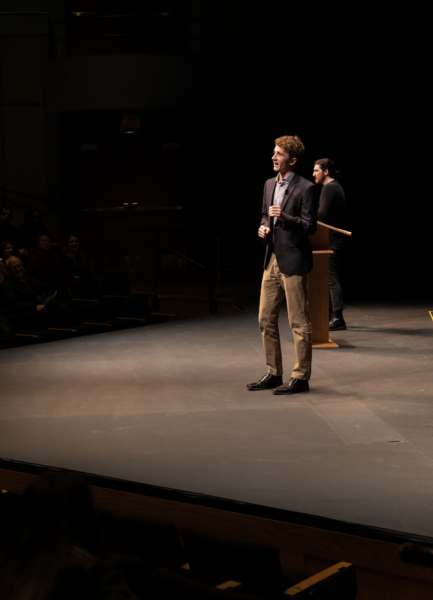 Caleb Shenk, runner-up, spoke on how being an accountant made him think about taxes that go to the military. Photo by Kyle Hufford
"I ran through three or four different versions of my manuscript after having different people look at it," Shenk said. "Through each of these rounds of feedback I would reshape and reorder it trying to get it to the place that I wanted to." 
"The day of the speech, I was just ready to get it over with and be done with the nerves and the preparation," he added. 
Green's process had some similarities, but was different with her topic in mind. 
"Writing this speech, with the possibility of being a contestant, in a room full of white people was nerve-racking to me. But, my nervousness is one of the things I was trying to get at in my speech – the differences in our experiences," Green said.  
The speech was originally inspired from frustration that was held by Green.
"Our lived realities, which can be linked to systemic racism, are treated as illusions," Green explained. 
"As I said in my speech, many white Americans will attempt to deflect the damage and injustice to the Black community," she said. " They will say things like "all lives matter" or claiming that they don't see color,"
She went on saying, "And while our experiences are treated as illusions, how many white people view peace is the actual illusion – for example, wanting racism fixed by being kind to everyone."
One thing that was agreed upon by the contestants was the amount of time that they had to speak. 
Green and Shenk were in agreement that something they wrestled with was trying to find the most effective wording so that everything that they wanted to cover was stated. 
Shenk said: "It was fruitful in the end knowing that I was able to say everything that I wanted to say."
Another thing that was agreed upon by the two was the impact of the speeches given by the other contestants. 
"All the other contestants did great, and their pieces were timely and powerful," Green said. "I know how hard we all worked to ensure we gave audience members our best. In particular, Mike's speech about serving as a veteran resonated with me."
As for Shenk, "The highlight of the night for me was getting to hear the finalists' speeches. It was kind of jaw-dropping to hear how good they were. During Mike's I cried; during Kyra's I was blown away by how eloquent it was."
After the speeches were given and the winners were decided, Green commented on her emotions following the night.  sharing their truths."
"I am proud of myself, but I don't think my speech would've been made possible without the help of others," she said. "I hope that other Black students can see themselves on the stage, sharing their truths."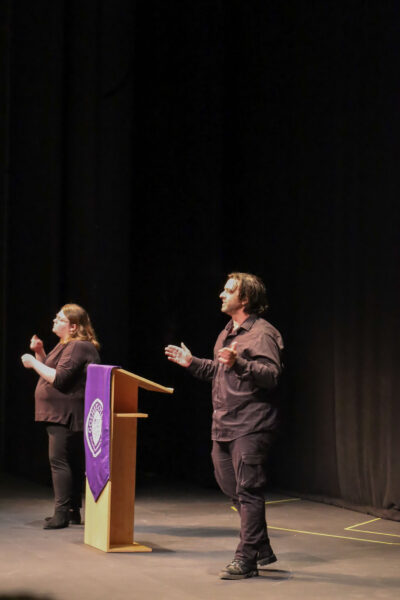 Michael Murrell, a 20-year veteran of the U.S. Army, spoke on how his experience in the military turned him into a pacifist. Photo by Kyle Hufford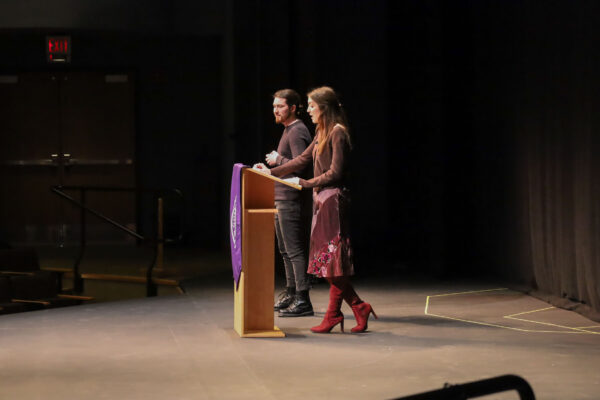 Augusta Nafziger, a senior writing and music major, spoke on the decline of local journalism. Photo by Kyle Hufford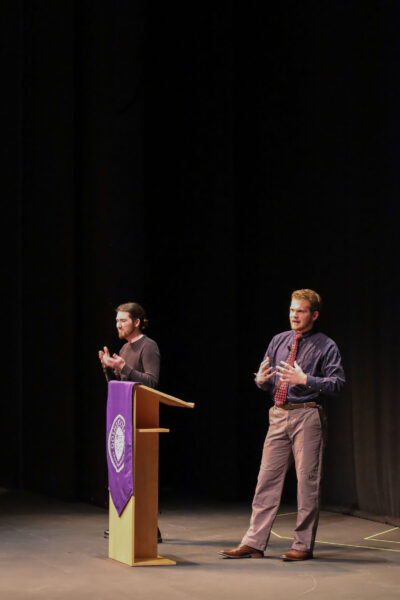 Daniel Eash-Scott used his experience as an umpire to think about power and humility. Photo by Kyle Hufford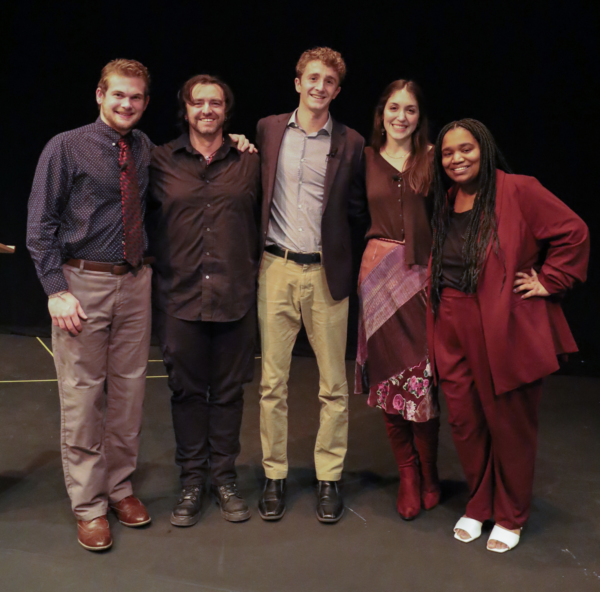 The contestants of the 2023 Henry C. Smith Oratorical Contest were Daniel Eash-Scott, Mike Murrell, Caleb Shenk (who placed second), Augusta Nafziger and Jakyra Green (who placed first). Kiara Blackshire//The Record