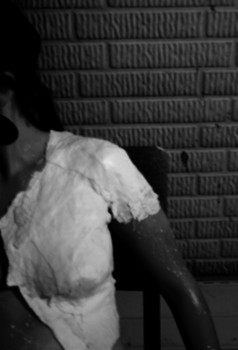 Giggles and shrieks abounded as plaster splattered during Tuesday's activity for Healthy Bodies Week, a series of events hosted by Goshen Student Women's Association. The event was body casting, in which women gathered and made plaster casts of different parts of their bodies, ranging from chests to hands and legs.
Adrienne Yoder, a senior first-time body caster, said that there was "the initial shock of taking clothes off but then realizing that we all look the same." Chelsea Wimmer, a junior, and Ashley Fehlberg, a senior, expressed similar feelings of liberation. "It was very freeing," said Wimmer. "I experienced a lot of solidarity – we're all doing this thing together."
Fehlberg added, "At first I was nervous and I thought I'd be self-conscious, but in the end it was really freeing." The goal of the event was to aid women in viewing their bodies as art and celebrating being comfortable in one's own skin.
Monday's event also was designed to help women feel more comfortable with their bodies. A booth filled with information on menstruation was set up in Java Junction all day. Books about alternative beauty products and the cultural history of menstruation were available and alternative, environmentally friendly feminine hygiene products were set out for students to look at and learn about.
"Menstrual products are expensive, and there's not really a lot of education about women's options," said Becca Yoder, a junior. "The goal of this table is to give women a little more education about their options."
The Diva Cup was one of the more popular products talked about at the table. "The menstrual cup is somewhat unique to our generation, even though they've been in existence for a while," said Yoder.
Annika Miller, a junior, added that, "It saves you money, but it's also a lot healthier, as (the user) is less likely to get toxic shock syndrome … it's good for environmental reasons too, because you're not creating all of the waste that comes from tampons and pads."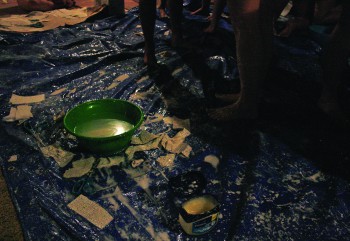 Healthy Bodies week continues with a sex talk involving students and staff held Wednesday and yoga led by Angie Nisley from Spacious Heart Yoga on Thursday in Newcomer 19 from 4-5 p.m. On Friday, the movie "For Colored Girls" will be shown at 6 p.m. in the third-floor connector.
A potluck lunch in Newcomer 19 will be held at noon on Saturday, and the week will end with a Feminine Divine worship service at Benton Mennonite Church at 6 p.m. this Sunday.
All students and faculty are invited to the Healthy Bodies Week activities.