Runners from all over the country will gather at the Recreation-Fitness Center of Goshen College on Feb. 25 and 26 for the fourth annual Maple Leaf Indoor Marathon.
Participants from 15 states, stretching from Massachusetts to California, Oklahoma to New York, plan to attend the event, which involves running 204 laps around the 200-meter indoor track.
Doug Yoder, the cross country and track coach at GC, as well as one of the entrants, organized the event.
"In my mind, it's a big-time event at little Goshen College," Yoder said. "I'm sure that the college doesn't realize that, but it truly is."
Two marathons were originally planned, one beginning at 8 a.m. on Saturday and one at 7 a.m. on Sunday. Each race was limited to 30 runners, and these spots were filled by the first week in November. Yoder decided to allow a few additional people in each race, so 34 are currently signed up for Saturday, and 33 for Sunday.
Yoder also added a third marathon, on Saturday afternoon at 2:30, in order to accommodate some of the runners who were on the waitlist. Ten runners are currently signed up for this race.
Only about a third of the runners are local, and Yoder is the only one from Goshen College. According to Yoder's estimate, about half of the runners who are signed up for a race on Saturday are also signed up for the one on Sunday. Yoder himself plans to run at least one marathon each day.
All runners will receive electronic chips, which will automatically record their time whenever they cross a pad that is placed across the track. Every 30 minutes runners will change direction, both to add interest and to prevent injury to the ankles and hips from running 204 laps in the same direction on a small track.
Each race will have one winner, who will receive a plaque, while all who participate will receive finisher medals. Each runner will also receive a race T-shirt. AVI Fresh and Kroger will provide food for the participants.
Interest in the Maple Leaf Indoor Marathon has grown since its beginning four years ago, particularly after information about the race was posted on a national website last year.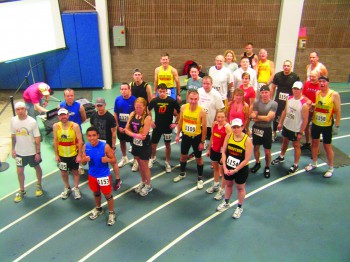 During its first two years, the event included only one race, which took place on Saturday morning and was limited to 25 people. Runners had assigned time keepers to record their personal time throughout the race, but it is too difficult to record laps using this system with a greater number of runners, according to Yoder.
The Maple Leaf Indoor Marathon is one of only about five indoor marathons in the country, according to Yoder. He also knows of one or two indoor marathons that take place in Canada.
When Yoder began the marathon four years ago, he wanted it to be a low-key, enjoyable event. He modeled the Maple Leaf race after an indoor marathon held at St. Olaf College in Minnesota, which held its seventh annual indoor marathon last month.
Although the marathon now attracts participants from farther away and is more popular than Yoder originally anticipated, he still sees it as a low-key gathering where people can enjoy running in a more intimate setting than that of a typical outdoor marathon.
"You see everyone, you talk to everyone, and every lap you're passing a group of people who are helping you refill your water bottles," Yoder said. "So you're actually being encouraged every lap, whereas in a regular marathon you might run for a couple miles and see nobody."
It is also important to Yoder that the marathon benefits people beyond the runners themselves. The two major expenses of the marathon are the electronic timing chips and the race T-shirts. Funds earned from the marathon beyond covering those costs will be split between LaCasa and the Habitat for Humanity project that involves building a house for Eddie Mayorga, a Goshen College employee who has worked for the physical plant department for 11 years.
Some runners, including Yoder, ask people to sponsor them in the race so they can earn more money to donate. Yoder plans to take pledges for any distance he runs that is over the length of one marathon, as he did in previous years.
An escape from winter weather without traveling farther south is typically one benefit of an indoor marathon.
"So far, every year there's been snow on the ground, so it's made it feel like there's a reason why we're having an indoor marathon," Yoder said. "But this winter, it looks like maybe not."
Whether or not the outside temperature gets below freezing, Yoder believes that runners will still enjoy the race, as they did in other years.
"Everyone that's come has enjoyed themselves and said they had fun, and that's the main purpose," Yoder said. "I don't view it as a competition."