When Sarah Hartman-Keiser, a sophomore nursing major, was handed her first stethoscope, blood pressure monitor and set of scrubs last Friday, her grandmother Margie Keiser, a retired nurse, was by her side.
John and Margie Keiser visited Goshen College for last Friday's Grandparents Day festivities, and they accompanied her to Nursing 210: Intro to Professional Nursing.
"It was exciting because I didn't know we were getting those things that day, but it made the moment even more special. My grandma was there to be excited with me and see a part of my future become a reality in a small way," she said.
Over 100 grandparents visited the GC campus Friday, participating in a variety of activities designed to give them a taste of their grandchildren's college experience.
One of the first activities was a chapel service, where President James Brenneman welcomed grandparents to campus and wished them a "reunion of great joy and blessing" with their grandchildren.
President Brenneman spoke about the importance of honoring grandparents as "living proverbs," who, in the words of former US President Jimmy Carter, "possess the distilled wisdom of pain and joy."
At the chapel service, the Women's World Music Choir performed the song "Lineage" by Andrea Ramsey, honoring grandmothers as "strong" and "full of sturdiness and singing."
Also during chapel, Hartman-Keiser and her twin sister Lydia Hartman-Keiser read a litany with their grandparents.
According to Lydia, the Keisers "felt honored to be part of the service and were glad to have read words that resonated so deeply with them."
Following the service, President Brenneman then invited all of the visiting grandparents "or surrogate grandparents," to join him for a reception.
Grandparents also had the opportunity to take a "behind-the-scenes" tour of the Music Center; hear presentations about the Inside Out program, GC's Communications Department, the Mennonite Historical Library, and diversity at Goshen College.
They also could attend a hymn sing and visit on-campus art galleries.
[caption id="attachment_32185" align="alignright" width="350"]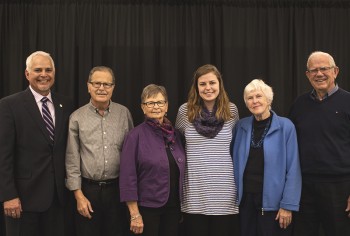 Emma Koop Liechty with President James Brenneman and her grandparents (from left) Russ Liechty, Marge Liechty, Shiela Koop and Henry Koop.Photo by Hannah Sauder.[/caption]
According to Marge Liechty, grandmother of GC junior Emma Koop-Liechty, part of the attraction of Grandparents Day is also in connecting with other grandparents.
"Of course it was special to spend time with our granddaughter, Emma," Liechty said, "but we also enjoyed connecting with other grandparents some of whom were our classmates from earlier GC years."
In the evening, grandparents were invited to attend the Best Western Hoopfest, where the men's basketball team took on the Moody Bible Institute Archers, and the GC Symphony Orchestra Fall Concert, where they received a special welcome from conductor Jose Rocha.
According to Rose Shetler, GC's Director of Annual Giving & Operations Manager and event planner, Grandparents Day was "hugely successful."