Wednesday, Goshen College welcomed Dara Marquez, DREAM Act advocate and winner of WNIT Public Television's Michana's Rising Star contest. Marquez was invited to speak during Hispanic Heritage Month by ZulmaPrieto, adjunct professor of Latino Studies.
"I think she embodies the struggles and the resilience of a lot of young people who are the present and the future of the country," said Prieto.
Marquez opened by reciting her compilation of poetry by Bobby Lefebre entitled "We Know How to Climb." Her performance was followedby the story of how she came from Apan, Hildalgo, Mexico as a three-year-old and went on to become an accomplished student at Saint Mary's College. She draws inspiration from her parents, especially her mother, who works extra hours to pay for Marquez's college tuition.
"When people ask me. . . 'why are you speaking about immigration,' 'why are you putting yourself out there,' [I answer] it is the only way I could find. . . to repay my family's sacrifice," Marquez said.
Marquez went on to explain how she lived a relatively normal life until her friends began getting drivers licenses, but as an undocumented immigrant without a social security number, Marquez could not. She faced further hardship applying for college, as she could not qualify for federal financial aid.
Marquez hopes that her story will bring awareness to the struggles of other DREAMers, undocumented immigrants who may qualify for the Deferred Action for Childhood Arrivals Initiative because they have grown up in the U.S. Eventually, Marquez hopes that this increased awareness will bring about immigration reform.
"Immigration reform would be good politically and economically because you are giving citizenship to people who are willing to contribute, whether that is skilled workers or DREAMers who are graduating with college degrees," said Marquez.
[caption id="attachment_28436" align="alignleft" width="350"]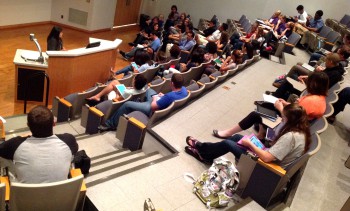 Dara Marquez, named Michiana's Rising Star, speaks to a group of students Wednesday. Photo by Mikhail Fernandes[/caption]