For students ready for a break from back-breaking academic literature during finals week, some lighter literature will be available from students in the education department's Children's Literature course. On Tuesday from 9 to 10:30 a.m. in the Good Library's Royer Reading Room, these students will read from the children's books they wrote and designed as a final project for the class.
The main audience will be children from the CCYC program and Parkside Elementary, but Lavonne Shetler, a junior [MAJOR?], urged college students to come as well, saying, "We want people to come look at our books because we've put a lot of effort into them."
The course is a general survey of children's and adolescent literature, and throughout the semester students read 150 picture books and 35 chapter books.  The  final project serves as an evaluation and a teaching tool, giving students a sense for what it's like to design a story for children. Several books from past classes have been published as Pinchpenny Press books or even outside of the college.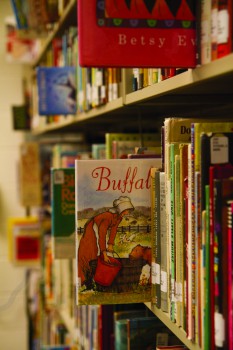 Amy Brubaker, a junior [elementary education major????], whose book tells the story of a childhood friend who moved away, said that the process of designing her project was "unique and fun as well as challenging—a lot of work is needed to create the text, illustrations and binding of an actual book."
Students are given options to complete their books in different ways and are allowed to experiment with different formats and subject matter. For example, Angela Bishop, a senior, made a collection of bilingual poetry directed toward adolescents, but other books tell simpler stories.
Shetler, whose book tells the story of a little girl whose friends won't play with her, wrote and designed her book but had another student illustrate her work. She enjoyed the details of the process, saying "planning out pages and what font to use and what size of book to make was really fun."
As Bishop learned during the process, "There's definitely more than one way to write a children's book."