The Michiana Regional Seed Swap, a gathering of growers, gardeners and plant enthusiasts, will meet on Saturday, Jan. 21 at 10 a.m. in the fellowship hall of the Church-Chapel to exchange seeds, discuss varieties and participate in educational sessions. 
"The Seed Swap is a nexus point for those interested in everything from vegetable breeding, food sovereignty, the cultural history of food traditions, locally adapted crops in the face of climate change, native landscaping to support wildlife and pollinators, and more," said Marcos Stoltzfus, director of environmental outreach at Merry Lea Environmental Center.  
"The motivations each individual has for why to participate are as varied as the seeds themselves," Stoltzfus said.
One local grower in particular ventured to make pizza from only local ingredients: everything from the wheat used in the dough to the oil pressed from peanuts. 
"To me, this exemplifies what the swap is about: getting folks closer to their food, and closer to the soil and surrounding ecosystems which nourish and feed us," Stoltzfus said. 
At the swap, there will be resource and vendor tables, community seed tables offering free seeds, bulletin boards with ads and volunteer and gardening opportunities, and educational sessions by different speakers on a variety of topics. 
Though the swap happens every year, this year will include a particular focus on vegetable garden crops and native plants. 
Most importantly, the Michiana Regional Seed Swap is an opportunity for community members to connect with each other and appreciate the many uses of seeds.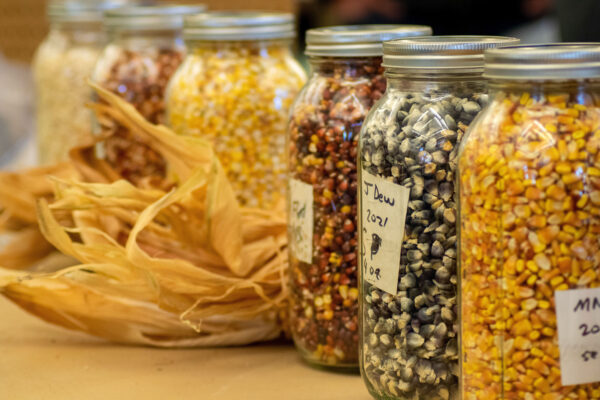 "[It's] a great place to hang out with other plant nerds to talk about veggie varieties and pick up some free, really unique seeds," Stoltzfus said.
Tyson Miller, a second-year communications major, photographed the event last year. 
"I had no idea what the seed swap was going into it, but I was blown away. So many people showed up to talk, exchange and learn about seeds," Miller said. 
"I think the biggest thing that stood out to me was the clearly very high level skill set that so many of the people there had — if you're looking for seeds, you'll be in good hands."