This Monday, the Black Student Union (BSU) led convocation to celebrate Black History Month. Members shared personal stories and reflections on growing up as part of the Black community.
Antianna Terrell, Esra Heisey and Quinn Brenneke shared an interpretive dance to Kirk Franklin's song "Chains," highlighting the emotional power of the struggle of Black people throughout history to break free of their chains: slavery and racism.
Next, members of the BSU told their stories.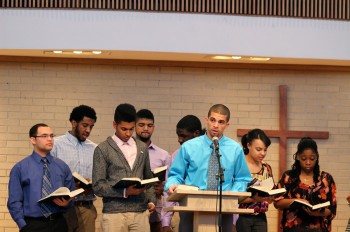 Trevor Emory described growing up in a biracial family without a father. As a child, he thought he was White like all of his friends. He recalled an incident in his kindergarten class when a classmate used a racial slur against him on the playground. That instance started a journey of discovery for him that brought him to fully accept his identity, that he was "indeed Black, but also White: the best of both races," as he said his mother told him.
Jerron Jamerson shared a piece of wisdom he learned through growing up Black and learning to accept it: "Don't let race blind you from getting to know someone." He explained how some of his most meaningful friendships are across races, and how happy he is for it.
Jesse Loewen was adopted by an all-White family in Goshen. He realized around age four that he was Black. Jesse's story highlighted parallels between all the stories: an experience of realization as a child, coupled with facing hatred or bigotry in some form. Yet his was different. He faced not only growing up Black in a White community, but also learning that the parents who cared for him were not his biological parents.
Antianna Terrell related how difficult it was for her to grow up in a mixed race family. She described sorting out her family ties and realizing that her identity is not as simple as Black and White, yet learning to be proud of who she is.
Nathan Orr grew up in Connecticut. In his words: "I was dark all my life. There was no working up to it; no tanning process." For him as well, realization of identity started in school. He faced slights and insults often as an elementary school student. This affected his choices in many aspects of life, especially in relationships. Yet now, he has accepted it. "Be proud of the race you are," he said.
Malcolm Stovall grew up in a mixed-race family. He left home to live with his White grandmother at age 14. After also facing insults and bigotry, he realized that he could either live as an outlier between White and Black communities, never at home in either group, or find a place in one. He decided to accept that he was Black, and is proud of it.
After the stories, Malcolm sang "Steal Away," and then Jesse Loewen, Lynnia Noel, Antianna Terrell and Tyra Carver recited the poem "Lord, Why did you make me Black?"
Convocation ended with all the students leading the audience in the Black national anthem, "Lift Every Voice and Sing."