After at least four years of higher education, many seniors are met with the question: "What are you going to do after college?" Some graduates take a year off and travel or volunteer, others move away to start their careers, while some decide to stay in the Goshen area. Some graduates even end up finding work with Goshen College—the liberal arts college that prepared them for the positions they have taken.
Jeff  Hochstetler
Graduated: June 2008
Degree: business and history double major
Current job: Senior Apartments manager
After settling on graduate school at the Associated Mennonite Biblical Seminary (AMBS) in Elkhart, Hochstetler was asked to apply for a Resident Director position that opened up in the senior apartments. Knowing it would complement his personality and interests, as well as his schedule at AMBS, Hochstetler decided to apply.
"As is probably still the case, a lot of seniors were ready to leave and had plans that would scatter them across the globe," Hochstetler said. "Several of my friends decided to stick around, and I thought it sounded like fun. I was a little apprehensive at first. But northern Indiana has more to offer than I thought.
"Currently I work part-time as the apartment manager on campus while also being a full time grad student at AMBS. Don't let the glamorous job title of apartment manager fool you. My duties are pretty miscellaneous and vary from week to week. In a typical week I process work orders, meet with students and meet with campus RDs. Less frequent duties include safety inspections, being on-call for the emergency RD number and fire drills.
"I think a lot of students are positively transformed by their college experiences, especially at a liberal arts school. I have come to realize that all places of work need engaged, passionate people who understand its culture. I had a great time at Goshen; I made great friends and was given opportunities that shaped my life to this day. It made sense to want to then give back to the place that helped create those opportunities by finding employment here."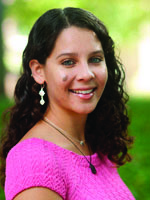 Karla
Santiago
Graduated: May 2010
Degree: music education major, Spanish minor
Current job: Admissions counselor
After a year of service as a music teacher in Bolivia with SALT, a program through MCC, Santiago felt a call to come back to Goshen College.
"I was told about an opening in admissions while I was still in Bolivia trying to figure out my next steps," Sandiago said. "Quite frankly, this job has been a godsend. I wasn't going to arrive back into the States until late July and I knew at that point it would be close to impossible to get a teaching position. So when I heard about the job, I eagerly jumped on it. I worked for the admissions office my four years as a student here and was always teased that I'd end up [being] an admission counselor someday. I guess I'm just fulfilling my destiny.
"Each week is different, new and exciting. Between visiting high schools, churches and having students on campus, every day is a new adventure.  I spend lots of time emailing and on phone calls, but it's always best to interact with our prospective students here on campus."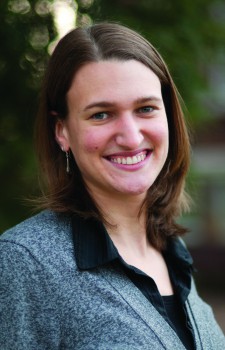 Hannah
Gerig Meyer
Graduated: May 2008
Degree: art major, graphic design minor
Current job: PR office graphic designer
Gerig Meyer started teaching art at Bethany Christian Schools while her husband, Jonny Gerig Meyer, attended graduate school at AMBS. When a graphic design position opened up in 2010 at Goshen College, she decided to apply.
"I really enjoyed working with students at Bethany, but I missed doing actual artwork and design myself," Gerig Meyer said. "I started working at Goshen College in January 2011. In a typical week, I might design a postcard for an alumni gathering, an ad for admissions, a brochure for giving to GC and a poster for a campus event. I design all of the print materials for the PR department and many materials for individual departments as well.
"It has been great to work at a place where I already had deep connections and some loyalty. It is familiar and comfortable and nice to be back in the GC community. I also appreciate the relaxed atmosphere at GC and the friendliness of my coworkers."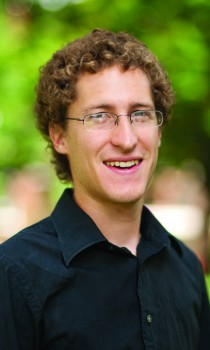 Jonny Gerig Meyer
Graduated: May 2008
Degree: history, Bible and religion, philosophy majors, theater minor
Current job: Adjunct professor of philosophy
After graduating from Goshen College, Gerig Meyer decided to pursue graduate studies at AMBS as a way to get a better foundation in Mennonite ethics and explore teaching as a vocation.
"While a student at AMBS, I had the opportunity to be a teaching assistant for two semesters here at GC," Gerig Meyer said. "This was a wonderful experience and helped confirm both my ability and desire to pursue college teaching. During my first semester as a TA, I was invited to teach one course the following year, filling in for a professor who was leading SST. I was very hesitant at first, but my experience as a TA convinced me that it would be both manageable and a good learning experience.
"Basically, I teach religion or philosophy classes on a part-time basis, usually filling in when a full-time professor is leading SST or on sabbatical. This semester I'm teaching Ethics and Morality.
"In many ways, I was simply at the right place at the right time. And there's no doubt that being a recent graduate gave me a helpful connection to the Bible, religion and philosophy department. I love working with (and learning from) my former professors, and I enjoy the relaxed-yet-always-probing academic atmosphere here. While I think adjunct professors are horribly underpaid here (and at many colleges and universities today), I'm grateful for the opportunity to expand my knowledge and teaching abilities, fresh out of graduate school."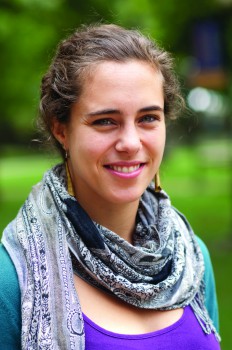 Alysha Landis
Graduated: May 2011
Degree: Journalism major, music minor
Current job: Acting news bureau coordinator
After graduating last year, Landis found a position in the public relations department which would give her time to save money until she decided what she wanted to do afterwards. She interned with the PR office in the spring of her senior year, which allowed her to continue her part-time internship through the summer and eventually take a full-time position.
"When I was filling in for Jodi Beyeler in the fall while she was on maternity leave, I was the acting news bureau coordinator," Landis said. "My main task is writing. I write press releases about campus events and news and features about cool things our students and alumni are doing. I also write stories for The Bulletin, GC's alumni magazine. I have also written some copy for GC's website. Photography is another aspect of my job. I schedule/organize our student photographers, and also do some photography myself. Right now I'm compiling a list of text and photos of important events in GC history to be added to the new timeline feature for our Facebook page.
"While convenience was part of why I stayed, I also wanted to get a taste of what working in PR would be like, since it is related to my major. After graduation, I had no idea what I wanted to do as a career, so I have decided to just try a bunch of different things before deciding on something long-term.
"At first it was a little weird working on campus right after graduation, since I wasn't a student anymore, but I didn't really see myself as an employee, either. But after I got my footing, it has been really nice, and I've enjoyed working with the people in my office. It's also been fun to feel more like a community member in the city of Goshen than when I was a student."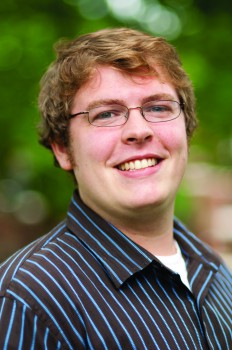 David Kempf
Graduated: May 2009
Degree: music major with a concentration in music business and technology
Current job: Interim AV-IT systems manager
After graduation, Kempf stayed in Goshen, where he found a community outside of the college. "With my band, church family and friends from activities like ultimate Frisbee, I had found a nice community outside of the college and was enjoying my post-college life here," Kempf said.
"When ITS Media was in the process of finishing up summer work and getting ready for the school year, they contacted me to help finish up some classroom upgrades and project work.  I, not being someone to turn down work, naturally agreed because I had planned to spend the next year here anyway, and this was a job I knew and liked.
"I work on maintaining and upgrading audio/visual equipment all around campus, from the classrooms to cable TV to the Globe and GCTV studios.
"I feel I have been very fortunate with my work situation, because I haven't had to go through an arduous job-searching process. It's been really nice to work in a place I know inside and out because I can work efficiently and enjoy myself at the same time. It has also given me the opportunity to develop relationships and friendships with people in completely different ways than I had as a student, which has also been a great experience."