Lee Bergey may be in their third year of college, but they still take the bus to school. 
The purple school bus parked behind the Romero Student Apartments is the ongoing project of Bergey, an art and sustainability studies double major, who has been converting the bus into a mobile home for the past nine months. 
The bus is the realization of one of Bergey's lifelong dreams. 
"I always wanted to live in some sort of mobile home," they said. "I just want the lifestyle of being able to move around and go where I'm needed and not be attached to a place and the stuff that I have in that place."
Bergey was saving up for a car in 2017 when they learned that a secondhand school bus would be a much cheaper purchase ‒ and an opportunity to create their own mobile home. But before Bergey could commit to buying and renovating a bus, they needed to do "a lot of research." 
"I knew I didn't want to rush into anything," they said. "I was doing research… on what kind of materials I wanted, the engine type, what kind and what size of bus, what kind of fuel and solar panels I wanted." 
Three years of research later, in November of 2020, Bergey came across an online listing for an inexpensive school bus in Rochester, New York. The next day, Bergey and their father were on their way to Rochester from their home in Green Lane, PA to buy the bus.
The journey to Rochester took about 5 hours. The return home took 13. 
"The bus wouldn't go above 35 miles an hour," Bergey said. "But it ran, which was the most important thing ‒ to get an engine that works." 
After a long trip home, Bergey's first task was fixing the engine's speed problem. Next, they replaced the suspension and brakes, repaired the headlights, and renovated the interior of the bus, building kitchen countertops and two closets that would be "set to drive." 
Another step in the building process was plumbing. Committed to using as little water as possible, Bergey researched how to build a recycling shower and composting toilet. They also purchased a non-electric washing machine that uses 5 gallons of water per load of laundry. 
"Energy use is something I have to calculate a lot," Bergey said.
For electricity, Bergey bought used solar panels for 50 dollars each and enlisted the help of a neighbor to install the panels on the roof of the bus. The panels connect to a cable that runs out to the electric outlets in the bus. 
"I can't make the engine itself solar, but I didn't want to draw electricity from the engine," Bergey said. "So everything from the cab back is powered by solar."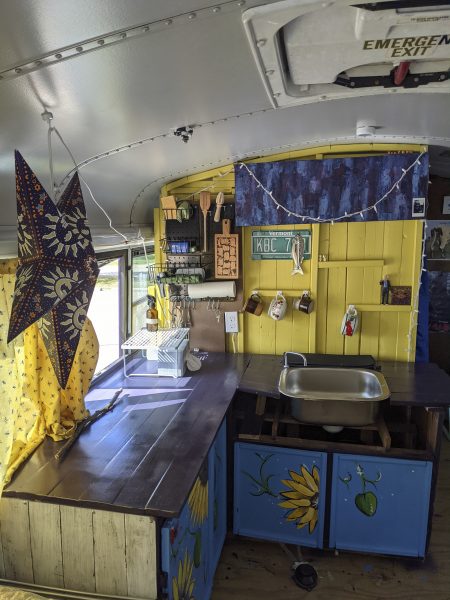 Apart from the occasional electrical outage, the bus is now fully operational. Bergey painted the outside of the bus in June, but continues to work on painting the interior, adding sunflower illustrations and colorful detailing to the kitchen cabinets. Insect-patterned curtains cover the windows, and Bergey has added various odds and ends ("my thermometer shaped like a fish!") to the shelves and countertops. 
Bergey is currently participating in the Sustainability Leadership Semester (SLS) at Merry Lea, but lives in the bus on weekends when they visit the college. They plan to live in college housing until they graduate, after which they will live in the bus full-time. 
To anyone considering renovating a school bus of their own, Bergey says: "It's entirely doable."
"It's not that hard, it's not that expensive," they said. "I think this whole project was $10,000 in total… and I came in with no building skills and no plumbing skills and no electricity skills."
Bergey adds that there is a common misconception that people who are interested in living in a mobile home have to "go and live remotely by [themselves] in the middle of nowhere."
"There's a lot of people out there," they said. "You don't realize it until you start doing it, but there's groups of people… you can go and join up with caravans that are traveling around the U.S." 
Readers can learn more about Bergey's bus journey on Instagram @leebergeybus.