Students and faculty gathered on the ice of Kesling Wetland at Merry Lea on Sunday for the second annual broomball tournament hosted by the Goshen College Outdoor Pursuits Club.  
Merry Lea has been organizing broomball games for over 15 years. It all started when a student, Lisa Zinn, found out about the game over a decade ago and brought it to the small wetland in Indiana. 
Broomball is a very simple game and only requires a few items to play: solid ice, a ball, goals and around a dozen old brooms. It is a combination of hockey and soccer. 
Students who have learned and lived at Rieth Village, the undergraduate housing complex at Merry Lea, bring the tradition back with them to the main campus to share with others. 
Outdoor Pursuits Club leaders Emma Burton, Olivia Krall and Birch Baer were joined by their advisor Jonathon Schramm and about 10 other participants for the game on Sunday.  
Burton explained that the winter activity is great because "it is low cost, accessible and requires little equipment."
"People can play regardless of having played before," she said. "And it's nice to get outside after being cooped up indoors all winter. We always have a lot of fun no matter how many people come."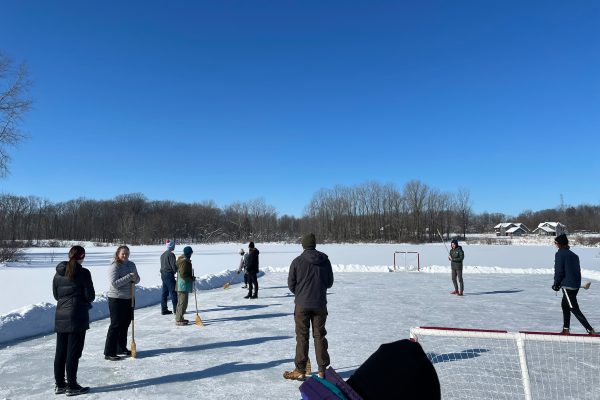 The wetland provides an ideal location for the game for a couple of reasons. Tom Hartzell, the coordinator of undergraduate programs at Merry Lea, explained that "Merry Lea is a great place for it because we've got a nice, big, easily accessible wetland that freezes over pretty reliably in the winter."
"Plus, it's next to one of our main programming sites," he added, "so there are buildings close by to store the equipment in."
Hartzell said that "playing on ice is a great equalizer for those needing encouragement to get involved. It doesn't matter how fast you can run on land, we all move at a pretty similar pace on ice." 
"We work really hard to not go very fast," Hartzell continued, "you get going in one direction, and it's pretty impossible to change direction. It all leads to some pretty humorous situations." 
Those who would like to receive emails about future Outdoor Pursuits events can email Burton (elburton@goshen.edu) or Krall (oliviajf@goshen.edu). 
The next event scheduled is a snow day at Camp Friedenswald this Sunday, Feb. 13.