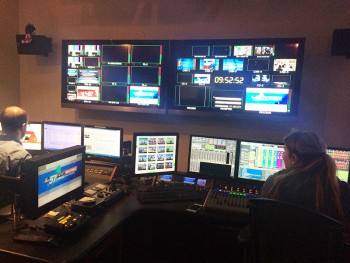 Above: Ashley Davenport obvserves in the control room during preparation for the 10:00 show. Below: Tyra Carver unloads inventory at Speedway.Top photo contributed by Ashley Davenport.Bottom photo contributed by Tyra Carver.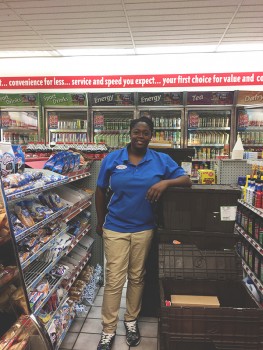 It is 3 a.m. on a school night and Tyra Carver, a Goshen College senior, unloads inventory from the back of a truck at Speedway on Lincolnway Road. Ashley Davenport is sound asleep, having just finished her shift at ABC 57. Ryan Miller is an hour away from waking up, so that he can do homework before his shift at Violett Cemetery.
After a day filled with classes, most students head back to their dorms to binge-watch Netflix, start some homework or rush off to practice. That is not the case for Tyra Carver, Ryan Miller or Ashley Davenport.
These students are making extra money (or saving for the next tuition bill) by holding down jobs during the semester.
Carver works three part-time jobs: unloading trucks at Speedway, serving drinks as a barista at Java Junction and helping to run Goshen's intramurals. Carver is a full-time student-athlete, spending her days in classes and her evenings at basketball practice before heading off to one of her part-time jobs.
Carver typically works twice a week, from 3 a.m. to 7 a.m., at the gas station. She worked for Speedway over the summer, in her hometown of Kalamazoo, Michigan, so the Goshen location offered a smooth transition.
Carver's first class is at 3 p.m., followed by basketball practice at 4 p.m. Her regular day concludes when basketball practice ends, which is typically around 6 p.m. Carver then begins her homework. After that, she will work any combination of her three jobs, sometimes sneaking in a quick nap. On an average night, Carver will get just four to five hours of precious sleep.
Carver is saving up for a college trip to Spain and Morocco in May term.
Ryan Miller, a first-year at Goshen College, is also a full-time student that spends his free time working—at a local cemetery.
Miller said he often gets odd looks when people hear about where he works. His primary responsibilities involve mowing the lawn, weeding, digging graves and, yes, burying people.
Initially he struggled with the grave assignments. "It's hard to think about literally putting someone in their final place on earth," said Miller.
His first assignment was a story in itself. With orders to dig a grave that was exactly six feet deep, seven feet long, and four feet wide, Miller set to work.
After he carved out the piece of ground, making sure all the edges were square, he stood back to admire his work. All of the sudden the ground underneath his feet began to crumble, and Miller found himself falling into the hole he had just dug.
As he was eight feet under, he looked to the left and right and realized he could see the vault, which houses the casket and body, of a neighboring gravesite.
"You can't think about what you're doing when you do stuff with the graves," said Miller. Though people find it strange, he said, "Someone has to do it."
Miller's typical day begins around 4 a.m. with homework. Following classes, Miller heads to the cemetery to work from 11 a.m. to 3 p.m., typically working straight through lunch.
Though Miller's job during the school year is part-time, it is the continuation of a summer job that was full time, similarly to Carver. He scaled back from working 40-hours per week in the summer to about eight during the school year.
Ashley Davenport, a senior broadcasting major, has also found success working off campus. Davenport works at ABC 57, a news station in South Bend.
Davenport is a full-time student and works from 3 p.m. to nearly midnight four days a week. Unlike Carver and Miller, Davenport is able to receive internship credit in addition to earning a salary.
Davenport is a production assistant tasked with writing scripts, managing social media sites, and working the station's teleprompter. The job provides hands-on experience and a chance for Davenport to network outside of the confines of Goshen College, something she finds very valuable.
Davenport is able to report on current news stories, one being the murder case of Alma Del Real, a local 22-year-old woman.
Crime Stoppers called ABC 57 with the tip that Del Real's body had been found and Davenport quickly got to work. She was able to write stories and posts for social media, getting a chance to participate in live, local breaking news.
Pay was also a factor in Davenport's decision to work off campus, in addition to fulfilling her internship credit and gaining real world experience.
A reoccurring theme in these three students' decision to work off campus was the opportunity to make a higher wage. Jobs on campus pay the Indiana state minimum wage of $7.25.
Carver, Miller, and Davenport all are able to make a higher wage at their off campus jobs. "The way the college does their payroll doesn't suit my needs," said Carver. "What college kid can survive on one check a month?"
Carver is paid weekly at the gas station, while Davenport and Miller are paid bi-weekly.
For Miller, money isn't necessarily the motivation. "I enjoy work," said Miller. "On the first day of fall break I worked 12 hours and was perfectly fine with it. It's fun and enjoyable—and they're often looking for people."