Regina Shands Stoltzfus, professor of peace, justice and conflict studies at Goshen College, believes that spiritual connection is important in the daily practice of antiracism.
In the book "Been in the Struggle: Pursuing an Antiracist Spirituality" (Herald Press, 2021), which Shands Stoltzfus wrote with Tobin Miller Shearer, spirituality emerges as a key focal point of antiracist tactics.
"We practice," Shands Stoltzfus said, "Just like musicians and athletes do. I think that's true for something like antiracism. We have been socialized in a very racist setting, living in America. We are expected to embody racism and practice those beliefs; that there is a hierarchy of human beings."
"Racism isn't over just because you have this head knowledge of antiracism. You have to practice those things, and show up for antiracism in work, politics and school."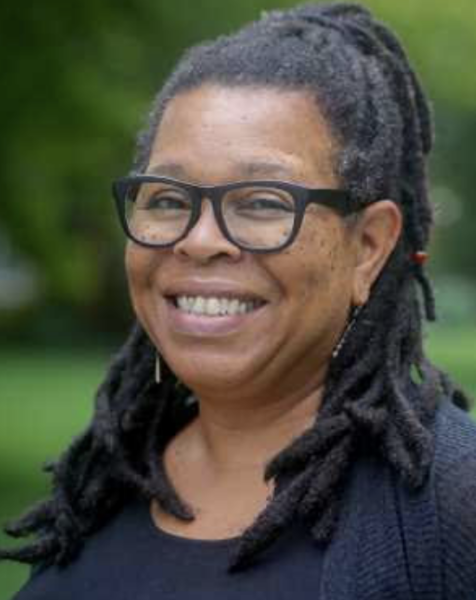 Shands Stoltzfus also believes that spirituality can give people a basis of connection, regardless of their race or background.
"Church is who I am," Shands Stoltzfus said. "It feeds me in a way that I don't have words for. I think about those things, like opening a book of hymns, gathering for a sermon, the practices we do, really anytime humans gather… What are the stories you tell over and over and over again? There's something about doing those behaviors that give us a sense of belonging and connection."
She notes this connection in her coming of age in an intentionally interracial Mennonite church in Cleveland, Lee Heights Community.
"The church I was raised in and pastored in for a while was intentionally racially mixed from the beginning," she said. "They began in the 1950s. There was still legal segregation in many places. But they very consciously said we pay attention to race and racism. A racially conscious church was just my normal. When I was an adult, I saw just how hard they had to work at it. I grew up, experiencing that it was possible for people of different backgrounds to be together and do life together."
Shands Stoltzfus also notesthe growth in the Mennonite church when it comes to recognizing racism and practicing antiracist tactics in everyday life.
"When I first started working in antiracism, the collective I worked with specifically worked with Mennonites," she said. "It was really hard working with Mennonites a lot of the time, even though I'm Mennonite myself.But this was in the mid1990s, and compared to conversations now about race, it was very different language wise. Working with Mennonites was difficult because so many white Mennonites didn't understand themselves to be white. They saw Mennonite as their primary identity."
"It's a process," she continued. "Learning to meet people where they are and developing a process that is not brow beating people is difficult. It's also hard work, so it's going to feel gross some of the time, but we can do hard things. The level at which I am able to start conversations now is just so different. Back when I first started teaching, I would have to creep up to talking about whiteness and be careful about my language. But people have a lot more language and understanding now; you can start at a higher level. You don't have to creep around the 'W' word."
Shands Stoltzfus was able to continue partnering across racial lines when writing with Miller Shearer.
"My co-author is the person that I did a lot of that antiracism work with," she said. "White man, Black woman. We partnered across racial lines and also across the narratives and histories that have shaped us. Sometimes, it makes the work we do together very hard. Does that mean one of us is a sell out? That's sort of what we've been told. In many ways, this is the unexpected thing that we can do in this work, especially in the context of racism still happening. That's been really important to me."
Shands Stoltzfus also notes that while she considers spirituality to be at the root of her antiracist tactics and that it is beneficial for many, it is not necessary when being an antiracist individual.
"It is different for everyone," she said. "I certainly know that those who are not religious or spiritual can do antiracism very well. It's still very real. I do think there is an essence of some sort of spiritual nature to every person apart from religion and religious organizations. Spirituality comes in just because of who we are and how we're made. I don't need everyone to believe that, but I do."
Antiracist tactics are a wide umbrella of difficult questions. Because of this, Shands Stoltzfus believes that there are more questions to be answered regarding the subject.
"I am always interested in having people think about how race and other social identities, like economic class or disabilities, might be a factor in conflicts that we're having," said Shands Stoltzfus. "It invites a conversation that thinks about power dynamics. How do we understand power dynamics in our own conflicts, or when we are called in to be a mediator?"
In part, these are some of the concepts she hopes to explore during her sabbatical this spring. When her six-month sabbatical begins in January, Shands Stoltzfus plans to stay in the area. She also plans on taking advantage of Eastern Mennonite University's strategies for trauma awareness and resilience program, known as STAR. She plans to collaborate with EMU and Goshen College in her approach to research.
"I will be reading a lot and talking with various stakeholders on campus about how we currently practice restorative justice, and what our vision is for the future," she said. "The big thing I want is to think about how we consider and act out restorative justice on our campus," she said. "How come it only shows up when we are disciplining people? That seems problematic to me."