It's a rainy Saturday afternoon, but the two-tone chime in Rêverie still sounds frequently, announcing the entrance of customers searching for knitting needles, dish towels or a last-minute gift for a relative. The air is heavy with the scent of vanilla candle wax, and several display shelves are marked with price drops on yellow slips of paper  ‒ apparently, sidewalk chalk is 40% off this week. 
Located on the corner of South Main and West Washington, Rêverie has sold yarn, home decor and gifts in downtown Goshen since 2013, when it was founded by five people who felt the absence of a local yarn shop. 
Linda Altenhof, one of the five, points out a small strip of tape on the store's wooden floorboards. It reads: "Life is too short to buy cheap yarn."
"And it's true," she said. "We have become a destination for knitters to come, because they recognize the quality of the yarn we offer."
Altenhof says Rêverie "started out as a hobby" for her and the other four owners. 
"We were not interested in salaries, or we were at that point already close to retirement age and didn't have to have an outside job," she said. "[Now,] we split the duties."
Although the shop is run by five owners, Rêverie has just one employee. 
"I do a lot of different things here," said Amber Stoneburner, whose role as employee includes managing Rêverie's website, social media, knitting classes and customer service. "I like that I am able to be creative in different ways."
Stoneburner has also knitted many of the sweaters, hats and other articles of clothing on display on the left side of the shop, which features Rêverie's large collection of yarn and all things within the realm of knitwear. 
Want to learn how to knit your own sweater? Sign up for a 2-hour sweater-knitting class ($60) at the shop. Need to purchase some yarn for your next scarf? Rêverie has shelves and shelves of the stuff, ranging in color from "sand bank" to "ravelry red." 
The right side of the shop carries several unique gifts and home decor products, such as children's picture books, Polish pottery ("we're the only [shop] in the area that carries it!" Stoneburner says), local maple syrup and stuffed animals. 
Rêverie's wide range of products keeps many customers coming back for more, but the store is particularly frequented by knitting lovers. Laura Olsen, a senior sign language interpreting major and an avid knitter, visits the shop "three to four times a semester."
"I stop in there every time I'm walking down Main Street," she said. "Just to pop in and take a look, rarely intend[ing] to buy anything but always leaving with something."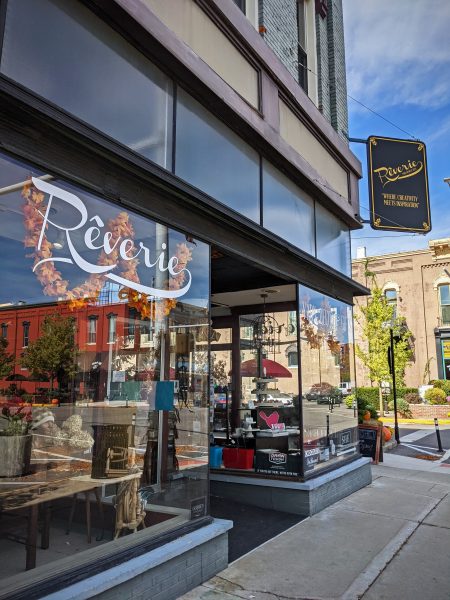 Olsen has been knitting since her first year of college when she took it up as a hobby between Thanksgiving and Christmas break. Now, she estimates that she spends 50 to 70 hours a week knitting.
"I know that sounds like an exaggeration," she said, "but honestly the only place I haven't knit is probably the shower. I knit in all my classes, chapel, between classes…while kayaking, at the beach, fishing, in the car ‒ everywhere!" 
Olsen gets the majority of her yarn from stores like Michaels ‒ "it's a lot cheaper" ‒ but prefers buying from Rêverie.
"[Rêverie] is a lot better for getting knitting needles… and snazzier yarn," she said. "They definitely have a way better selection than Walmart, Michaels or any other craft store." 
Another reason Olsen prefers Rêverie to other yarn stores is the ambiance of the shop. 
"I really like the setup and the wide variety of yarns [they] have," she said. "I've literally gone and just walked through the rows for hours, bouncing back and forth between yarns, deciding what to get, and getting inspired to craft! I also really like that a lot of the stuff is supporting small artists and businesses, too."
You can find Olsen perusing the yarn selection in Rêverie at the end of the semester, as she "make[s] a point to go after finals as a reward."
Beth Bontrager, the administrative assistant of the Mennonite Historical Library and another knitter on campus, recalls a project she made using yarn from Rêverie:
"I bought yarn there for… a scarf for my sister," she said. "It was really soft wool and fine…[and] it turned out beautifully, and she wears it as an accessory when she teaches."
Bontrager adds that Rêverie "has excellent teaching resources and groups."
"Staff [are] very helpful with suggestions," she said.
Altenhof says that knitters can bring their questions about projects to Rêverie or drop in for one of the store's "social knits." 
"People come on Thursday nights," she said. "They'll sit in the front window and knit and watch the world go by and yell at semis to get off of Main Street." 
For college students, Altenhof recommends purchasing yarn during sale days or checking out the 40% off section at the front of the store.
"Unfortunately, I know college kids can't afford a lot of our more expensive yarn," she said, "but we do have great sales that get the price down for college kids on a budget."
And if you have never tried knitting before, Altenhof encourages you to do so, promising that "you'll never be bored."
"If you know how to knit or crochet…you'll always have something to do."