Justin Crew, the new Goshen College women's soccer coach, says he's from "all over."
Crew was born in Maryland, moved to southern West Virginia when he was young, graduated high school in Grove City, Pennsylvania, attended Mount Vernon Nazarene University in Ohio and graduated from Olivet Nazarene University in Illinois.
What followed Crew to every state and city is a passion for soccer.
Crew has played soccer his whole life and has been coaching soccer full time for the past 14 years.
"I love the competition," he said. "I love the teaching aspect. And I love hopefully making a positive impact on player's lives.
Crew earned his bachelor's degree in social work and his master's in organizational leadership. In the three years following graduation, he worked as a hospice social worker. However, Crew's lifelong love of soccer brought him out of social work and into the coaching profession.
His coaching journey has taken him from Spring Arbor University, to Olivet Nazarene University in Bourbonnais, Illinois, to the University of South Carolina and then to Ancilla College in Donaldson, Indiana, where he worked for three years prior to coming to Goshen College.
While he's not busy working, Crew spends time with his wife and two kids, ages 8 and 12. He officially started working at in April 2018. Crew has coached at small, private Christian schools before, so the environment here is somewhat familiar to him.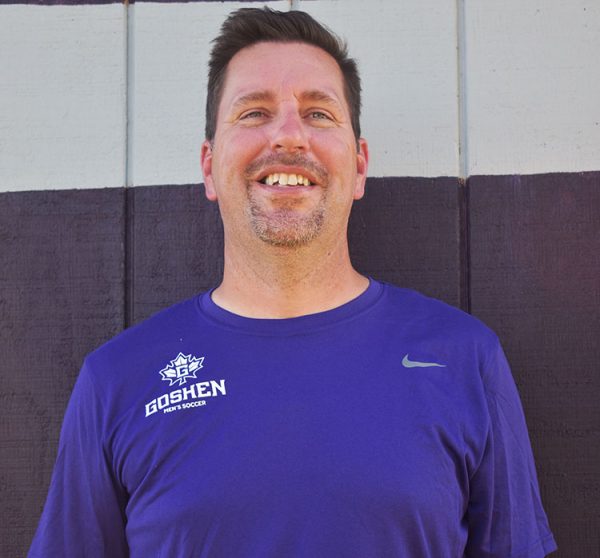 Justin Crew says, "I love the competition. I love the teaching aspect. And I love hopefully making a positive impact on player's lives."
Mara Beck, a senior soccer player, has been playing soccer at GC since her sophomore year and can see the difference Crew has made for her team.
Beck emphasized that the team feels like what a college soccer team should feel like.
"We're treated with respect," she said. "[Crew] fosters a good environment and makes sure everyone's on the same page."
Communication on the team has been positive and fluid since Crew became coach. Beck feels that he collaborates well with the soccer players and other athletic faculty and has fun with his job.
"Everything's very structured, but that doesn't mean that we can't have fun," she said. "He's kinda goofy and likes to joke around."
At the beginning of GC's preseason, the women's soccer team went to Chicago for an overnight trip which included a visit to the zoo. Beck said this was a good way to start of the season because it was an opportunity to get to know the new players on the team and also the new coaches, including Julianna Chupp, the new assistant coach.
The soccer team's first fundraising event this year, "Go for the Gold," involved the team working together to raise money to support pediatric brain cancer patients. This fundraiser included an online GoFundMe page and a halftime crossbar challenge during their game on Sept. 11. People paid $1 for three shots at kicking a soccer ball with the goal of hitting the top of the goalpost.
According to Beck, this was the first time they did a fundraising event during a game, and she thought it went very well. Beck said that the players are more dedicated and willing to do things like this this year because they feel more like a community now.
Crew said their goal was to raise $1,000, and they raised about $800. They still had an impressive turnout of people, and Crew believes they made their audience a little more aware of pediatric cancer.
The collaboration and success of this event and the strong community atmosphere Beck reported the team now has reflects Crew's values and priorities as a coach.
"Having a positive impact on the players," Crew said, listing his priorities. "Helping them reach their goals and dreams on the field and off the field. Give them what they need to be successful."