Many new faces can be seen around campus this fall, but not all of them belong to
Here's a glance at four new staff
students.In addition to first-year and transfer students, Goshen College welcomes 25 new employees to campus for the 2011-2012 academic year.
DaVonne Harrismembers: DaVonneHarris, of Student
Life; Laura Yoder, of the environmental science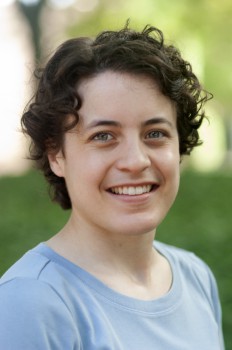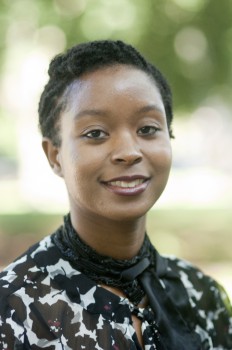 department; Kyle Hufford, from
the communication department; and Amy DeCelles, of the mathematics department.
Harris joins the Goshen College community as the director of Campus Activities Council and resident director of Yoder Hall. She previously worked as an education advisor at Ivy Tech Community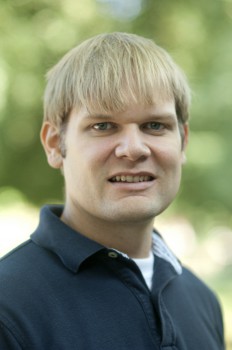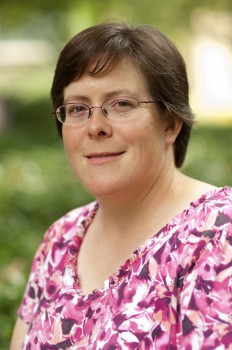 College and served on a multiethnic resource team which planned and hosted campus-wide events at Bethel College.
Harris also has experience working with first-time offender adolescents in a program called Reading for Life, where she facilitated reading and reflection activities.
As a resident director and director of CAC, Harris will provide supervisory leadership and event planning for Yoder residents as well as the wider student population. Her goal this year is to creatively engage students in the dorms and broader campus life.
Laura Yoder
Yoder joins the Merry Lea Environmental Learning Center as an associate professor in the Sustainability and Environmental Education Department.
In addition to teaching in Merry Lea's masters program, Yoder will lead a course in the fall Sustainability Semester in Residence, a program that gives undergraduates the opportunity to live at the Merry Lea nature preserve and tackle water-related environmental issues each day.
Merry Lea is a long way from Yoder's previous work in Chiang Mai, Thailand, and other parts of Southeast Asia, where she lived on and off for the past 13 years. There, Yoder explored issues of tropical agriculture, community development in conflict areas and social research in local universities.
As a new teaching faculty member at Merry Lea, Yoder is looking forward to mentoring students from diverse disciplinary backgrounds and developing experiential learning opportunities for students.
Yoder's passion for sustainable agriculture and land justice is something she hopes to share with students.
"The challenge I give to my students is that we may do justice and love mercy as we strive to understand and to bridge the worlds of marginal farmers and officials in politically contentious areas of forest control," said Yoder.
Kyle Hufford
Hufford is the newest addition to the communication department as an associate professor and general manager of the department's new video production unit, FiveCore Media.
As FiveCore manager, Hufford will oversee student production of videos for clients both inside and outside Goshen College. His vast experience as promotions manager for the Indian Wesleyan television station, WIWU TV, and as a freelance video producer will come in handy as he helps students create videos for a wide variety of clients.
"I'm excited to work creatively with staff and students on projects that are challenging and at the same time beneficial to the college," said Hufford.
Amy DeCelles
DeCelles joins the mathematics department as Patricia Oakley's sabbatical replacement for the 2011-2012 academic year. She will teach courses in precalculus, calculus, linear algebra, and geometry.
A recent Ph.D. recipient in mathematics from the University of Minnesota, DeCelles has also served as a recitation leader, lecturer, course material developer, and orientation facilitator for teaching assistants. She is excited to share her passion for math with her new students.
"I am looking forward to getting to know each of my students…and guiding them through the process of mathematical discovery, in particular by facilitating active learning in the classroom," explained DeCelles.