John Roth and Ruth Miller Roth
John Roth, professor of history, and Ruth Miller's first encounter occurred when they were just 4 and 5 years old. John remembers that, in 1964, Ruth came to his house along with her mother, bearing a set of encyclopedias. "I loved those encyclopedias, so I always associated them with the visit," said Roth.
About 10 years later, their life paths intersected once again when Ruth's family began attending the Roths' church, and they began seeing each other quite often at Mennonite Youth Fellowship events and meetings.
There were "blurred lines" between meetings and dates, said Roth. The future couple also attended the same high school.
When Ruth was bound for Goshen College, John reversed his decision to attend Eastern Mennonite University and followed Ruth. However, college got off to a rocky start. "Two weeks after classes started she dumped me, so it was a painful first year, but I didn't give up," he said.
After a year of separation, the two were reunited in the fall of junior year. After making up, they started seeing each other regularly.
They would take walks through Witmer Woods and attend "Creative Folk Dancing" on campus (Goshen College had just begun to allow this). Movies in the student union were also popular; John recalls seeing Deer Hunter and Dr. Zhivago. The summer after that junior year, John and Ruth were married.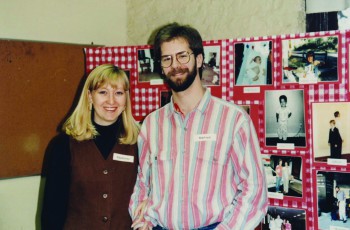 Ross and Erika Peterson-Veatch
Ross Veatch and Erika Peterson first met each other after they both entered the graduate program in folklore at Indiana University.  What attracted Ross to Erika? "I thought, hey, this girl's cute," said Peterson-Veatch. "She was cool. I enjoyed talking to her."
Their first date began with a muddy group expedition to Buckner's Cave in Monroe County, Ind. Over the phone, Ross invited one of Erika's housemates to go along, and in the course of the conversation, the housemate put down the phone to check on his cooking and Erika picked it up. "She just picked up the phone, and got herself invited," said Peterson-Veatch.
The first part of the adventure involved a section of the cave where "you can't stand up, for a football field and a half," he said. "That guy from New Jersey (Erika's housemate) started complaining almost right away. My housemate and I were looking at each other like … the girl's not even complaining."
Even on that first date, Ross showed that he cared. "You've got to have a helmet in a cave like that. They only had three helmets for rental, so if I was going to go I was going to have to buy one of the helmets, and so I bought one, even though I had no money. But I bought it; I was like … this girl's going to go with us."
While he didn't know right away that this would be the woman he would marry, things moved fairly quickly. "We met that first weekend, we went out the second weekend, and then that was pretty much it," he said.
Ross and Erika were married in 1993.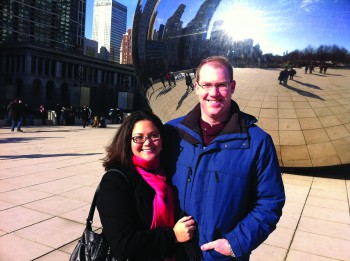 Sophie and Steve Metzger
A mutual connection to Cincinnati, Ohio first brought Sophie, assistant director of multicultural affairs, and Steve together in late 2008. "He had lived in Ohio while I was at Notre Dame, and then I moved from Notre Dame to Ohio when he was at Notre Dame, and then I ended up back at Notre Dame, so we kind of crisscrossed," said Metzger.
Steve, a doctoral student in medieval history, and Sophie, a theology student, were visiting at a mutual friend's house after a football game, and Steve skipped out early. "He had to go to church really early in the morning. Since I studied religion, I'm always intrigued by people who take religion seriously," she said. Evidently, that short encounter was enough. "He asked me out on Facebook. So he is a thoroughly modern medievalist."
The first date, a coffee affair, proved to be slightly awkward. At the end of the date, "He gave me the wrong number [and] I thought I got the brush-off." However, this proved to be a simple slip-up, and after confirming the number on Facebook the pair began seeing each other in earnest and were married in September of 2010.
They have had to deal with one issue. "My birthday is Valentine's Day; I call it my Birthentine's," she said. "I tried to convince my husband that we can give him another day on the calendar… that he has to give me double [on Valentine's day], and I pick another day to give him, [because] the real Valentine's day is mine. So we worked it out. The focus is still that it's my birthday … but we can share it. It took some growing on my part."
Heather and Wes Goertzen
Heather, Kratz-Miller resident director, and Wes first met in the headquarters of the mission organization Word Made Flesh, in Omaha, Neb. From the start they shared some of the same life experiences. Both had been to Bolivia for four-month terms similar to Goshen College's SST program, and both were signing up to go back to that country, as part of the same team, to work with women involved in prostitution. This team was made up of another couple and the two of them.
"We had come to terms with going overseas as single people, and thought that's what we were doing," said Heather. Before the team left for Bolivia, the two got to know each other on a road trip from Seattle to San Diego, on their way to an organizational event.
"Our personalities were different," said Heather, and in a debate, it came down to a "this or that." "Wes declared that the rational mind is far superior, and says that I proceeded to prove him right by nearly driving off the road in my emotional reaction."
In Bolivia, the two functioned within a working relationship until a "crucial turning point."
"We were walking home after a meeting, talking about how we worked best on a team. I was going to learn to trust his intention when he spoke. He was going to think more about how his statements would be perceived."
When Heather and Wes became closer and started thinking about being in a more serious relationship, they "did talk about big things early." Because of the nature of their working reality, they realized that a careful approach was necessary.
After traveling briefly to Michigan in 2006 to get married, the Goertzens continued working in Bolivia.
Heather remembers that time with humor. "[We had] signed up for the honeymoon package… [at a hotel in La Paz], which came with a bottle of champagne, chocolate, etc.," said Heather. "Turns out there had been an actual wedding there that day, and they had double booked the room. I decided not to fight the real bride.  But they gave us a two-person T-shirt, which was very romantic … yeah, awkward."