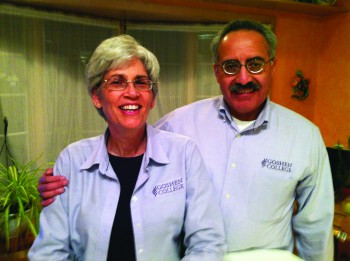 Richard Aguirre and Judy Weaver
When Richard Aguirre and Judy Weaver met, neither knew they would both end up working at Goshen College.
In 1981, the fall after Judy graduated from Goshen College, she began an internship with the Santa Barbara News-Press in Santa Barbara, Calif. She and Richard, who was working at the paper, sat nearby each other in the newsroom. They first spoke when Judy was assigned to shadow Richard while he worked as a court reporter. "She thought I walked too fast and I thought she walked too fast!" he said.
Richard offered Judy a ride home from work a few times before asking her out on a date, where the couple ate pizza and watched "Time Bandits."
"The pizza was good but the movie was not," Judy said. Richard said he enjoyed both.
Richard and Judy come from different backgrounds. He is Mexican-American and had a Catholic upbringing in California. She was raised as a Mennonite in Goshen.
In spite of these differences, the two of them "found ways to transcend (their) surface differences and to build a strong relationship and marriage," according to Richard.
One way Richard and Judy think dating has changed since they met is that people communicate with each other more before they start dating—they had only spoken to each other a few times before going on their first date.
The couple also thinks that young couples communicate much more through social media and texting these days, whereas when Richard and Judy had long conversations on the phone while they were dating and during their engagement.
Currently, he works as the director of communications and marketing at Goshen, while she serves as an academic counselor.
"We are soul mates and best friends," Richard said. "And we cannot believe we have been married for 30 years."
Billy Funk and Alita Yoder
Billy Funk and Alita Yoder met when the latter came to campus early for cross-country her freshman year. Billy, a sophomore, was a member of the cross-country team as well.
"Billy called me Emilidia because he didn't remember my name," Alita said.
The two were friends for about a year before they started dating.
"While some people do the whole 'Goshen dating' thing, the day I felt I had feelings for Alita I just went straight up to her and asked her—no sense in wasting any time!" Billy said. "I didn't know what I was doing but it seems to have worked out."
The pair's first official date was dinner at South Side Soda Shop. "It was pretty fun and chill," Alita said. "I had the veggie pita and he had the Philly cheesesteak basket, I think."
The two of them have continued to date since, and on Jan. 25, Billy proposed to Alita onstage at the end of his senior theater recital. He had been planning the proposal for about a month, but told only a few people beforehand.
"I wanted it to be a surprise, and it was!" Billy said.
Billy and Alita are both currently in their final year at Goshen, and their wedding date is yet to be decided.
Kyle Schlabach and Jessica Baldanzi
Kyle Schlabach, assistant professor of English, and Jessica Baldanzi, associate professor of English, were both graduate students at IUB Bloomington. But in such a large department, it took a different setting for their paths to cross.
"We actually met playing pickup ultimate Frisbee in the park," Jessica said.
Their first date was to a Tom Waits concert in Chicago. Though the concert was "fabulous," Jessica said, their time together was even more important. The four-hour drive allowed them to talk and get to know one other better. And when construction added an extra hour to the date, the two didn't complain.
When they first started dating, she joked that they both "deployed our super-secret, evil-genius master plans" to woo the other person.
Kyle, for example, baked Jessica an apple pie. To this day, he still does most of their family's cooking.
Jessica, meanwhile, played a Chet Baker love song, "Let's Fall in Love," on her radio show when she knew Kyle was listening.
The couple said they see the current dating culture different from when they dated, because now there are "so many ways to communicate that aren't face-to-face." The couple noted the difficulty of not knowing if someone is really "asking you out" in texting conversations.
Jessica and Kyle now have the unique situation as married professors working in the same department.
However, the couple said they are "grateful to both have a job at the same college."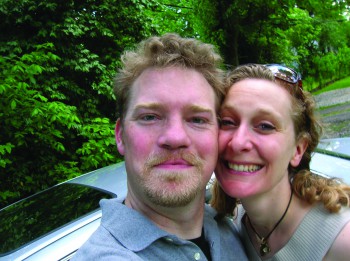 "We have a lot of couples who have jobs at different institutions," Jessica said, "sometimes at opposite ends of the country."
Jan Emswiler and Kajungu Mturi
Jan Emsweiler, assistant professor of nursing, and Kajungu Mturi, a senior PJCS major, crossed cultures and borders in the development of their relationship.
Jan, originally from Virginia, and Kajungu, originally from Tanzania, met in Tanzania when they were serving with Mennonite Central Committee.
For several years, the two worked side-by-side on a youth education program, leading trainings and home care visits.
But it wasn't until Jan returned to Tanzania after a year of graduate school in the States that "the stars aligned." The two started hanging out more outside of work.
However, dating in rural Tanzania is done differently than it is often done in the United States. The couple never spent time "alone," as appropriate to the culture. Instead, the two hung out at work, went to lunch breaks together or had tea at the hospital's café.
"Romantic relationships are not discussed openly," Jan said, "and although I know people thought we were hanging out more together, I'm not sure what they thought was going on."
The two were married after a five-year friendship.
Jan said a trend in Tanzanian urban areas is for young people to date more similarly to the way people do in the states. However, rural areas still continue with the traditional approach.
The two of them now live in Goshen. They have two children, including a newborn named Wakuru Mae.
"I am thankful God brought us together," she said. "My husband makes me a better me."