Kimber Beachy lives in Goshen, but her office is about 9,000 miles away—at McMurdo Station, Antarctica.
And that's where she is now.
"I heard about the program in the late 90s from a magazine that no longer exists called Transitions Abroad," Beachy said. "The more exotic a place sounds, the more I want to go there, so of course Antarctica called to me."
Generally, Beachy works on the Ice—a nickname for the continent—during the austral summer (October to February) and then returns to the States for a second summer. During her time in Goshen she travels, volunteers, visits friends and enjoys her yard.
Beachy grew up in Goshen, but didn't stay there long. After college, she lived in New York City and Portland, Oregon for several years each before starting to live as a nomadic seasonal worker.
Although Beachy's first application in the 90s to work in Antarctica wasn't accepted, she didn't give up. While hiking the Kepler Track in New Zealand in 2003, Beachy met a man who had just finished a season in Antarctica who made a connection for her, and she got an interview.
"The competition for some of the jobs on the Ice is intense," she said. "I landed the job as a dishwasher, and my Ice career has taken off from there."
Beachy has been a seasonal worker with the Antarctic program ever since. "The low cost of living in Goshen helps me afford to live a seasonal life," she said.
McMurdo Station, managed by the National Science Foundation's U.S. Antarctic Program, is one of about 70 scientific research stations that are in operation during the austral summer. Beachy is one of approximately 600 contracted employees who keep the station running efficiently each summer. After 12 seasons working on the Ice she has transitioned between eight jobs, from dishwasher to the lead at the IT HelpDesk.
"I've worked at all three U.S. Antarctic stations—McMurdo, South Pole and Palmer," she said. "I thrive on variety and constant learning, so it's great to work in a place where varied work experience within the program can be viewed as an asset rather than a liability."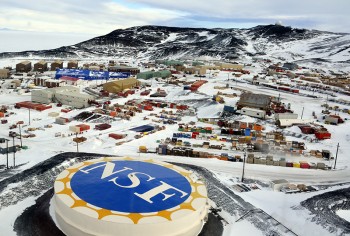 McMurdo Station, where Beachy is currently working, is managed by the National Science Foundation's U.S. Antarctic Program.Photo by Peter Rejcek, for the National Science Foundation.
Although cold temperatures are a reality for people working in Antarctica, Beachy doesn't seem too concerned.
"People usually think of the severe cold when they think of Antarctica," she said. "But really, in December and January, oftentimes it is warmer in McMurdo than it is back in Goshen, due to it being the heart of summer in McMurdo and the heart of winter in Goshen."
During the austral summer, temperatures at McMurdo might even reach as high as 50 degrees Fahrenheit.
While Beachy usually works the summer season, she spent one winter on the Ice.
"That season I worked in Palmer Station, which is above the Antarctic Circle, so we did not have 24 hours of darkness," she said. "We had hours-long sunrises and sunsets. It is a station with a stunning view, and we could view the sunsets and sunrises from the galley."
Although excursions out into the wilder parts of the region are rare for workers whose job keeps them in town, Beachy has been fortunate. In January of 2013, her ninth season, she took a helicopter trip with a group of scientists who were observing orcas.
"The ice edge isn't what I imagined," she said. "I imagined solid ice and then open water—I've seen it that way before. What we had instead was solid ice rimmed by broken-up ice, with pools of open water here and there."
The group spent a few hours observing orcas in the pools while the scientists took photos of what they estimated to be about 40 whales.
"It was incredible to be so close to so many whales in such a beautiful setting," Beachy said. "At one point, I had two whales dive right under me. I was about five feet from the edge and they came right at me and dove right at the ice edge under where I stood."
Beachy enjoyed watching the whales, but wished for something more.
"I really wanted to see penguins pop out of the water at the ice edge like I've seen in videos," she said. "We saw plenty of Adélie penguins on land near the hole, but none really in the water.
Toward the end of our time at the first hole we saw a few Adélies in the water. One popped up out of the water in front of the scientists, but I wasn't there."
It looked like the group was about ready to head back to the station, but Beachy saw some Adélies in the water next to them and requested a little more time.
"Within two to three minutes, five of them popped up one at a time not five feet from me," she said. "Icing on the cake."
Although it's difficult to be away from friends, family and her adopted Italian greyhound, Joy, Beachy has found a community on the Ice.
"Most here are nonconformists—misfits or square pegs who don't quite fit into some or many of the prevailing social norms," she said. "While some might think that is a negative thing to say, I think it's quite the opposite."
Beachy doesn't plan to stop working on the Ice any time soon. "I've felt somewhat out of place for much of my life," she said. "When I landed here, I felt like I found my tribe."