Kent Palmer, associate professor of informatics, always wanted to be an environmentalist. In his words, computer science, his current profession, was "sort of accidental."
After four years of teaching at Goshen College and helping develop three new majors, Palmer plans to leave this summer and teach at MacMurray College, in Illinois. His father, who lives near MacMurray, is getting sicker and needs more care, so this arrangement will be more convenient for them both.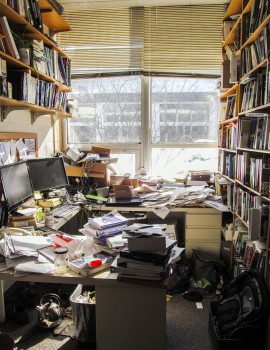 Kent Palmer's GC office
After graduating high school, Palmer selected a college that focused on environmental studies. He studied physics at the University of Wisconsin Green Bay, a college known for its biology and environmental science programs.
The first experience Palmer had with programming was a two-credit course in FORTRAN in 1979. Back then, the best thing computers could do was solve complicated physics equations.
While studying at UW Green Bay, Palmer found a job working at a power plant at Argon National Laboratories. This helped pique his interest in computer science, as well, since the work was computer-related.
Later on, he returned to school to do some more physics and math research. With the help of a tuition waiver, Palmer was able to spend more time in research and less in work. He assisted in computer education for adults.
After finishing his undergraduate degree, Palmer took a break to do volunteer work with the Mennonite Church. To begin with, Palmer served in Oklahoma City doing home repair. After about one year, he returned to school at the University of Illinois Springfield, hoping to earn a master's in environmental studies.
During his studies at UI Springfield, Palmer worked at the Illinois Department of Nuclear Safety, implementing programs to check substances for contamination. One of his main tasks was to check drinking water sources. Political issues forced him to leave work there; he did not want to be associated with the state government at that time.
Next, Palmer went back to voluntary service. He wanted to travel abroad and tried to get placements that would take him to other countries. He studied Hebrew, Arabic, and Polish, hoping to find an agriculture or environmental science job in Israel, Poland or an Arabic-speaking nation.
He ended up volunteering for Koinonia Farms, in Americus, Ga. This was where his first real "coding" experience came. Koinonia Farms sells pecan products, and at that time had a computer that simply kept track of mailing lists and addresses.
When Palmer came, the system needed some huge improvements. Pecan customers had no way to check the status of their orders, because every record was on paper and was very poorly organized.
As well as computer support, they also needed a general accounting program, so with next to no coding experience, Palmer decided he would buy the accounting program, but write the order processing program himself.
The perfect time came.
Palmer's brother invited him to go on a peace walk across the state of Colorado; his brother had planned a wedding that would happen on the walk. Palmer brought a manual for FileMaker, the code he planned to use for the order processing program. For most of the walk, he read the manual and tried to learn the program.
"By the end, I had a basic idea," he said. So upon returning to Koinonia Farms, Palmer wrote the program. The farm used his program until 2000 or 2001, even though he wrote it in the late 1980s.
Later, Palmer transferred to Habitat for Humanity and worked there for 10 years. His work got more and more complex: PC support, system administration and a variety of other tasks with computers.
Palmer earned his Ph.D. while working for Habitat. "It was because they had flaws in their fundraising system," said Palmer. "I wanted to learn how to streamline their fundraising with computer programs, so they could make better decisions."
He finished his coursework while working for Habitat and wrote his dissertation later.
In 2010, Goshen College hired Palmer to start the informatics program. At that point, he had four job offers. One of the offers is still available, and he plans to take it next fall.
The initial idea for informatics was to have a program that combined computer science with real-world applications, which is why there are multiple concentrations within the department: biology, communications and PJCS, to name some.
"Informatics" was supposed to cover all the bases that the prior programs had covered. Before that, there had been two programs available: business information systems and computer science (CS). According to Palmer, low student enrollment and lack of qualified professors forced the math faculty to take on most of the CS courses and the business faculty to take on most of the business information systems courses.
Around 2000, enrollment in computer-related programs was down. Goshen College felt the decrease for several years before Palmer was hired. Now, they have an increase in students enrolling in computer-related programs. Informatics was an attempt to boost enrollment, and it worked well.
In many ways, studying informatics at Goshen College is quite different than studying it anywhere else. Palmer sees attitudes throughout the discipline that are harmful.
"Money can be a false motivator," he said. "Passion is more important than financial gain."
Yet that attitude is not here at Goshen College.
"Students here are intellectually more interesting to work with," Palmer said. He appreciates the level of passion and engagement in study he has found. "They are also socially engaged and involved in issues," he said, a distinction many students in the field do not share, in his estimation
Palmer mentioned how much he has enjoyed working with Code Purple.
"Code Purple is a co-curricular program that allows informatics students to get experience solving real-world problems," he said. "This is a very unique program that I will definitely miss."
Next semester, Goshen College plans to add two new majors to the broader "computer" program: computer science and information technology. Again, it is a matter of addressing problems with enrollment.
Palmer explained that students who search college websites looking for the words "computer science" are often confused by "informatics," not knowing that it is really a synonym, so they ignore Goshen College.
Palmer hopes that this will change if catalogs reflect that Goshen indeed has a computer science major.