Building and living in a tiny home wasn't part of Trevor Stutzman's original college plan. But neither was COVID-19. 
Stutzman, a sophomore physics and engineering double major, came up with his plan to remodel and travel the West Coast in a mini school bus while living at Merry Lea this fall as a participant in the Sustainability Leadership Semester. 
Faced with the changes on campus due to COVID-19, Stutzman said, "I realized that I was not looking forward to coming [back to campus] in the spring. That's when I realized I would only need to take one class online and could still graduate on time." 
From Harvard University to Goshen College, the numbers show that more college students are taking time off from their studies this year, whether it is deferring enrollment for a gap year, or taking a semester or year off. 
This year, 13 GC students deferred their enrollment for at least a semester and 20 more filed a leave of absence. Both of these numbers are above average.  
Stutzman had been dreaming of building and living in a tiny home for over a year when, one evening in October, he spotted a white bus for sale in a church parking lot in Goshen. 
Stutzman bought the 2002 Chevy Express — his first vehicle — for $500 a few weeks later. He named it Gary in honor of the man from Maple City Chapel who sold it to him.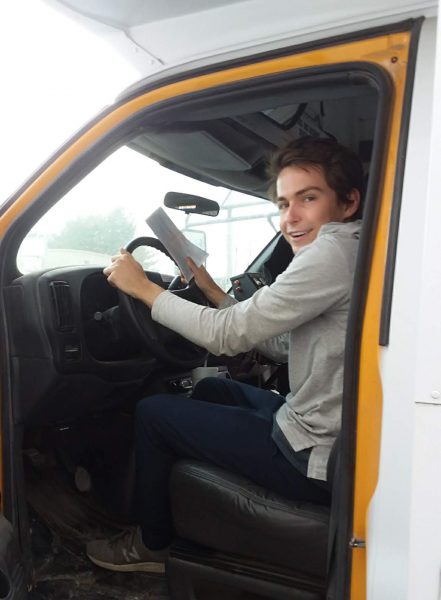 The adventure began as soon as Stutzman left the church parking lot. 
First, a brake line went out on the way to the mechanic shop for repairs, and the bus had to finish the three-mile journey by tow truck. 
Then, the first time Stutzman went to fill up at a gas station, gas spilled onto the inside floor instead of into the tank. 
Stutzman spent the first two weeks of winter break gutting the 29-passenger bus at a friend's house in Ohio before making the trek home to Denver to continue the project. 
To turn the 8-by-14-foot interior into a living space, Stutzman removed the seats, replaced the flooring, patched some rusty spots and inserted insulation into the floor and walls. 
In Denver, the refurnishing began. 
Stutzman got to work equipping the bus with a kitchen counter, sink, stove, cooler, propane heater, water tank, electrical lights and some shelves. He plans to add to that a table, a bed and a composting toilet. 
Three solar panels on the roof will provide electricity when the bus is not running. For internet, Stutzman plans to use the unlimited data on his phone plan.
Stutzman's work was interrupted in late January when an accident with a drill sent him to the emergency room for eight stitches in the palm of his hand, but he does not think his bandaged left hand will hinder his progress too much. 
"It should all come together fairly soon," he said. 
Stutzman is paying for most of the renovation with money he saved up during high school. He plans to finish up work on the bus in the next couple of weeks, and embark on his adventure as soon as he fulfills his jury duty on Feb. 18. 
Stutzman will do something called "boondocking," in which he will live out of his bus in remote parts of public lands. He has not decided on his first destination yet, but plans to start in the southwest United States and travel north as the weather warms. 
Besides taking his one class, engineering statistics, Stutzman plans to spend much of his time out on the landscape, hiking, running, biking and riding his mountain unicycle. He will also take some books along to read, and said he might try to teach himself to code, if he has the time.   
Stutzman plans to steer clear of the coronavirus by keeping his distance from other people, a feat that will not be too hard in the remote locations he will stay. 
Will he get lonely spending so much time alone? Stutzman does not think so. He will keep himself busy and has already made plans with family and friends who will visit him in his bus during their spring breaks. 
Besides, Stutzman, who described himself as having an engineer's mind, has more practical things to worry about than loneliness. 
His biggest fear is "just not being able to start the bus." 
After six months of working on and living in Gary, Stutzman plans to return home at the end of May and sell the bus. 
"I'll be either really sad to see [Gary] go," he said, "or he [will have] given me enough headache that I'm happy he's off my hands." 
Either way, selling the bus has always been a part of the plan. It will free Stutzman up for the next adventure.