Raising rhinoceros iguanas for an eco-tourism organization isn't the first thing that pops to mind upon hearing the word "internship," but for Hannah W. Miller, a senior in Goshen College's environmental science program, that's just what it meant.
In the summer of 2009, Miller spent six weeks at El Iguanario, an organization in the Dominican Republic that raises
Cyclura cornuta
(rhinoceros iguanas) with the hopes of releasing them into the wild sometime in the future.
El Iguanario is operated out of a single small house in the village of Los Tocones, on the Samaná peninsula of Hispañola, the Caribbean island that is comprised of Haiti and the Dominican Republic.  The iguanas are kept in pens in the back yard, where they eat, sleep, mate and lay eggs in the sandy soil. The first 12 iguanas at El Iguanario were acquired from the Santo Domingo zoo as adults, and they breed once per year, adding new iguanas to El Iguanario's collection.
The organization was founded by a Peace Corps volunteer, but for the past two years the project has been led by Kat Stutzman, a GC alum.  Stutzman did the study portion of her Study-Service Term with El Iguanario, and after graduating from college, she received a Fulbright grant to return to the Dominican Republic and continue to work with the iguanas.
Miller's connection to El Iguanario was formed as she was searching for an internship to fulfill a requirement for her environmental science major.  When nothing seemed to be working out, she sought council from Jodi Saylor, her academic adviser.  Saylor contacted Stutzman, and the internship came together.
"About a month later, Kat emailed me," said Miller.  "[She] said, 'I would love to have you, just come on down if you are interested,' so we emailed and set it up."
In addition to the conservation work she was doing with the iguanas, Miller said the living situation and community structure were a big part of her learning experience.
"It was so different from living in America," she said. "It was out in the middle of the country and we collected our own rainwater that we used for showering and dishes and stuff."  She continued:  "You're just super aware of your resources.  It was a completely different culture."
El Iguanario's primary goal is to increase the numbers of rhino iguanas, which have been disappearing due to habitat destruction.  This mission is primarily funded by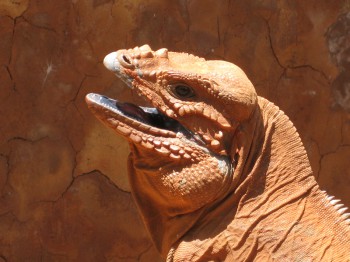 Cyclura cornuta, or rhinoceros iguana, is an endemic species to the island of Hispañola, where Hannah W. Miller went to do her environmental science internship. Photo contributed.
eco-tourism.  People pay to see the iguanas and hear about their history, and that money goes back to feeding and raising the iguanas.  Since the species is endemic to Hispañola, meaning it only exists naturally on that island, interacting with rhino iguanas up close is a rare opportunity.  No iguanas from El Iguanario have been released into the wild, but that goal is still central to the organization's mission.
Stutzman has now returned to the U.S., after handing her responsibilities at El Iguanario over to locals in Los Tocones.
Miller isn't planning to go back to the DR anytime soon, but says that her work and lifestyle at El Iguanario has changed the way she views conservation biology.
"[I had] the realization that conservation is directly tied to the community around the species you're trying to preserve," Miller said. "People had different ideas about the way the Iguanario should be run or advertised…It's just such a community effort."