Sara Alvarez
Senior, Public Relations major
Sara Alvarez and five friends traveled to Puerto Rico over spring break and stayed at her grandmother's house.
"I'm from Puerto Rico and it had been two years since I'd been back. My favorite day trip was when we went to Gilligan's Island, an island off the southern coast of Puerto Rico where the water was calm and clear and there were many little coves and pathways through the mangroves to explore. One path took us over a really muddy area, through a drier section and then out to the mangroves where we could jump into the water. This spot where we could jump in from the mangroves was at the top of a channel that divided the island and had a current through it—our own lazy river. I loved floating down the channel because it was so relaxing and beautiful to be in the blue water with green mangroves on either side."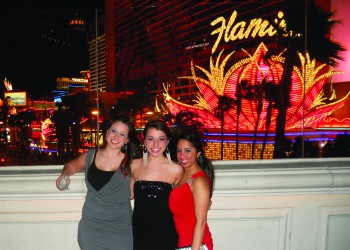 Meg Suter
Junior, Social-work major
Meg Suter, along with Kayla Hooley and Anna Beels, made a long-awaited trip to Arizona over spring break.
"We went to Arizona for the week, visited the Grand Canyon for a day and took a road trip to Las Vegas for the weekend. We have talked about going to Vegas since our freshman year of college and this was our last spring break together. We figured we had to go big or go home, so we went big! Arizona had beautiful weather, so we spent the majority of our time outside, soaking up the sun. In Las Vegas, we explored the Strip, hit up the dance clubs and tried our hand at gambling–won $30 off the slot machines and over $70 when it rained money at one of the dance clubs."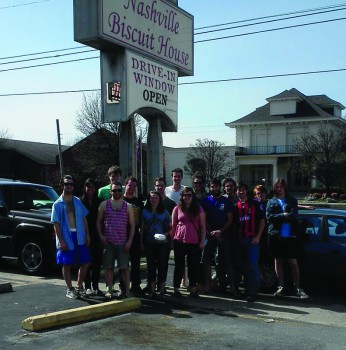 Hannah Epp
Senior, PJCS major
Hannah Epp traveled to Nashville, Tenn. with nine other friends from Goshen to visit their members of the band, Kansas Bible Company.
"We spent a lot of time hanging out at the house, playing cards, playing basketball or soccer in their courtyard, exploring the neighborhood, going to different restaurants, and we even got to see a couple bands play in the evenings. It was wonderful to be able to catch up with everyone there who I don't get to see very often. My favorite day was when a big group of us went out to a large park outside of the city. We brought soccer balls and other outdoor games and spent the day just playing outside. The weather was beautiful there and it was definitely nice to see the sun for four days straight. All in all, I couldn't have asked for a better time and, I have to say, their hospitality is one of a kind."
Farrah Mitchell
First-year, nursing major
Farrah Mitchell took a break from softball tournaments in Clermont, Fla. to see the new Harry Potter feature theme park in Orlando, Fla.
"Kelsey Morris mentioned the new Harry Potter feature [theme park] at Universal in Orlando which was about 30 minutes away. My brother ended up surprising me down in Florida that same day. I asked my brother if he could take us and he gladly did. Kelsey and I were so excited to go to Hogwarts. I remember her acting like a little kid again. We got to "Hogwarts" and it was completely surreal. My favorite part of [the park] was the Olivander wand show. It was a show on how the wand picks the wizard. Kelsey was so upset because the lady standing right behind us got a free wand and she didn't!"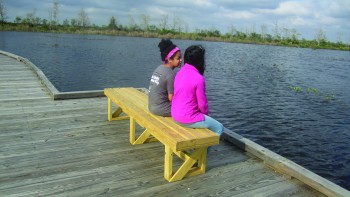 Cora Broaddus
Third year, English writing major
Cora Broaddus went on a week-long service trip to Cameron, La. to help build homes for people who lost their houses during hurricanes Rita and Ike.
"I decided to go on the trip because I haven't really done a service trip before. My friends were coming along, which made it feel right. The trip was fun because we established new relationships with the people who went along. One of the best parts of the trip was the fact that for an entire week we had three delicious home-cooked meals a day. The two most memorable events were seeing almost 50 crocodiles and meeting the "alligator man." He was a 70 year-old man who used to be an alligator hunter at night and a teacher at the local high school during the day. He was extremely sweet and generous. He gave us all necklaces and showed us his alligator heads."
Lassane Ouedraogo
Third year, public relations major
Lassane Ouedraogo is an on-air personality at The Globe, playing "timeless good music" every Thursday (3-5 p.m.) and every Saturday (6-8 p.m.).  This spring break, he went with The Globe to New York City to attend the 72nd annual Intercollegiate Broadcasting System Conference.
"I went to New York because I am interested in radio and communications in general. I knew that we would be winning some awards and I wanted to be part of the winning team. I also always dreamed about going to New York. The best part of the trip was attending the conference and the presentations of the Goshen College students. Kelsey was talking about the women in broadcasting and Tony and Jason spoke as well. Everybody was eager to hear from Goshen College.  I also got to see a high school friend of mine who has been living in New York City for the last five years. We last met in 2007.  Seeing him was a very exciting moment."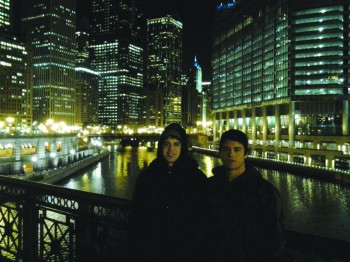 Alejandro Davalos
Third year, business major
Alejandro Davalos divided his spring break between Chicago and Colorado. He started the weekend of spring break in Chicago with his brother and two friends from Peru, after which he and his brother went to a ski resort in Colorado.
"We skied all morning and stayed on the ski slopes until four in the afternoon. At the ski resort there were a lot of Peruvians and South Americans so we hung out with them during the night. My favorite part of the trip was going down the big mountains. It was really funny because my brother and I fell so many times.  It was still a great trip."
Isaac Fast
Second year, communications major
Isaac Fast spent his spring break in Goshen where he helped build a house for Eddie Mayorga.
"I decided to do it because I was also involved with the planning process and getting volunteers. I thought it was appropriate to stay here and help build his home. It was cool to see the house go up. We've been planning and fundraising for so long and it was nice to see it actually happen. My favorite part of building the house was putting up the walls because a bunch of GC students were there and it went so fast. We got all the walls put up in one morning."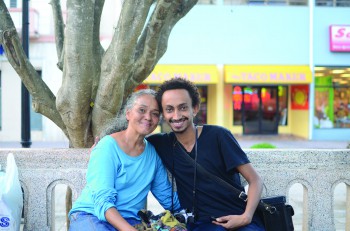 Abi Tsigie
Fourth year, art major
Abi Tsigie went to Puerto Rico with Vasti Rosado for spring break to take photographs that he will use for his senior art show later on this semester.
"The whole purpose of this trip was documenting older women who have qualities or characteristics of my mom. We also wanted to talk to people and share each other's stories. I chose Puerto Rico because that was the closest I could get to my culture in Ethiopia. I didn't want to go as a tourist; I wanted to be unnoticed because I didn't want my "Westernness" to affect my experience. Vasti and I stationed ourselves in her family house in the mountains of Caguas. From there, we visited several other places in Puerto Rico, including Patillas where several Goshen College students were staying. In a small city called Lares we found an ice cream shop that had weird flavors like rice, beans, beer and all sorts of fruit. I really liked the kiwi taste; it was brilliant."