Campus couples preparing to 'tie the knot' tell their engagement stories
Wedding bells are ringing at Goshen College.
This school year, there have been several wedding proposals – some in a romantic discreet setting, others in front of the entire student body.
Landon Slabaugh was very courageous to ask his girlfriend Emily Gibbs, a junior, to marry him in front of the entire school. At the spring semester Kick-Off, Slabaugh, also a junior, prepared a song to perform at the show with the assistance of his friends. No one was expecting the moment when all of the men's significant others came on stage. It didn't take long before Slabaugh had a solo part and got on one knee to propose. Gibbs had no idea what Slabaugh was going to do beforehand.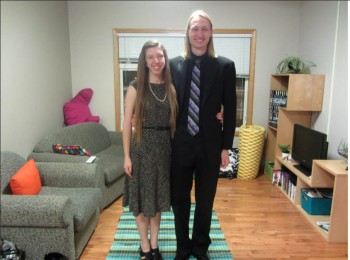 Newly engaged couple Emily Gibbs and Landon Slabaugh
"I didn't expect it at all actually," Gibbs said. "I didn't even know I was going on stage. All I knew was that Landon, Kolton [Nay], Brody [Thomas] and Nick [Schwartz] were singing something. They wouldn't say what, so I figured they were up to something, but I didn't think it would be that."
Gibbs also liked the fact that she was proposed to in front of many people.
"The good thing about the engagement being in front of nearly the entire student body was that I didn't have to tell too many of my GC friends about it since they were there," Gibb said. "I liked that because I didn't have to awkwardly tell people. Instead, everyone kept coming up to us, congratulating us and asking to see my ring."
And Gibbs couldn't be happier about her ring. "He did a great job. It fits my style perfectly; simple but beautifully artistic."
As for wedding plans Gibbs and Slabaugh have decided that the wedding will be somewhere in Goshen in June of 2015.
Khavoir Dario Graham, a junior, took a more romantic and discreet approach to his proposal. Graham proposed to his girlfriend, Teagan Johnson, junior, on March 21. Johnson had no idea Graham was going to propose to her.
"I did not expect it whatsoever," Johnson said. "He told me we were going to dinner with his bosses so he had me dress up in heels and everything and then had me walk across campus to eventually get to the spot where we first met. I jokingly complained most of the walk about how my feet would be killing me by the end of the night. If I knew what he actually had planned I would have shut up – and maybe worn different shoes."
Johnson's initial reaction when Graham went down on one knee "was a mixture."
"I kind of thought how embarrassing it would be if he was joking because people were passing by and had actually stopped to watch," Johnson said. "Mostly I was dumbstruck. I couldn't form many thoughts other than 'is this actually happening?' I must've said that about 20 times after it all happened."
People have had various reactions to their engagement, Johnson said.
"So many people have told us not to rush marriage and to just enjoy life," Johnson said. "That's probably the most common thing for adults to say to us. It all comes from a good place, where they want us to travel and see the world and have experiences before 'settling down.'"
Johnson said she won't speak for Graham, but "I'm so crazy in love with him and he is my best friend in the world, so any experiences I have, I want to share with him," she said. "Being a nursing student, I've seen so many people who were living life completely healthy and then they got sick and can't do the things which they once wanted to do. Life's short. I've found an amazing man who I love and maybe more importantly, with whom I have an amazing friendship."
While the couple does not have any wedding plans yet, Graham talked about going to Johnson's hometown to ask her parents for her hand in marriage.
"I talked to her family," Graham said. "I went down to Indianapolis to ask for her hand in marriage and their blessings when Teagan had a doctor's appointment."
Johnson said, "If I was lucky enough to get him to propose, I'm not letting him get away. He's with me forever."