Despite the heavy rain that washed over Goshen on Friday, ecology students from Goshen College still made it out to Merry Lea Environmental Learning Center for an overnight camping trip. Ryan Sensenig's Ecology and Evolution class had a lab the following morning, giving the students a chance to explore the 1100-acre facility that includes a lake, acres of prairie, and woods – enough nature to explore for more than just one Saturday.
This is the first year that students had this opportunity through their introductory biology class, giving the first year students another chance to get to know the Merry Lea facilities and faculty. Friday included a tour through the rain showing off Reith Village, the sustainable center for undergraduate studies.
"It was really cool to see the drainage system that was built into the architecture in order to recycle water," Ellen Conrad said about her tour of Merry Lea. Conrad is a junior environmental science major, and loved the chance to get back into nature beyond the limits of Goshen College's campus.
The skies cleared for a bit to allow for a grilled dinner and soup, steadfastly stirred by Kris Schmidt for over an hour to feed the 70 students that were able to come out to Merry Lea.
"It's really hard to meet first years as a junior, so it was really nice to get to hang out by the campfire and spend time talking," Conrad said.
In addition to the soup, fire was involved in other activities throughout the evening, a student favorite involving Professor Larry Yoder stomping around in the swamp.
"Larry Yoder did a swamp gas gathering demonstration where he gathered methane from the bottom of the wetlands and then set fire to gas," said Andrew Harris, also a junior in Ecology and Evolution. "It was a huge hit and a very cool thing to watch."
Pitched tents filled the lawn as the students turned in for the night. Sensenig's class requires students to work in groups and be collaborative in their learning, and hopefully this trip led to a better understanding of their classmates, as well as allowing an introductory class to get to know the professors that accompanied them.
Saturday was filled with group activities, with students choosing from three activities that showed off Merry Lea's versatile environment. Students were able to take a hike through the woods, explore the habitat surrounding High Lake, and canoe on High Lake itself.
"My favorite part was being able to look at the different environments and the plants that grow and thrive based on different conditions," Conrad said. "We got to see how shade effects different plants and explore these conditions through the lens of being ecological stewards."
Despite being an incredible asset to Goshen's biology programs and the college in general, many students do not get the chance to take advantage of Merry Lea. The students that are currently on Sustainability Semester welcomed the chance to show off the value of this center to the first years, but also to remind older students of the advantages of learning outside.
"Merry Lea is a valuable resource for Goshen College and its students and it was fun to be able to utilize this space and get to know new students and faculty," said Conrad.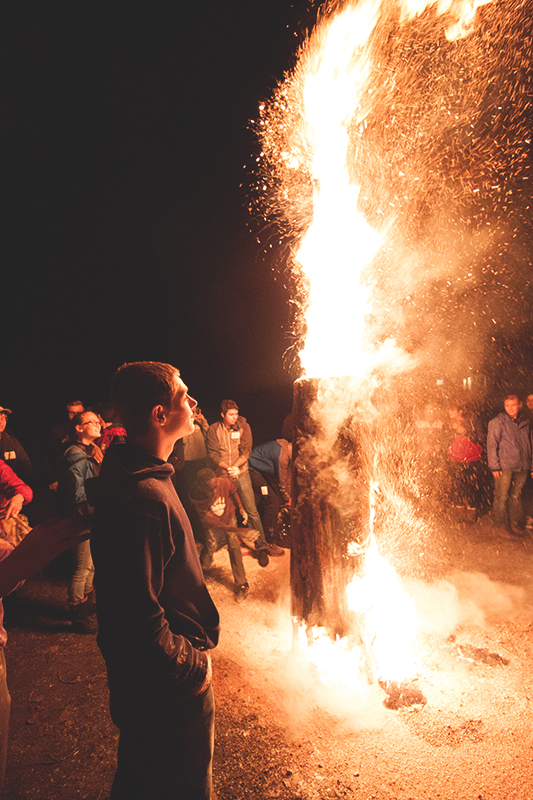 Photo by Mark Kreider.